Who is this article for?

This article is part of a series intended for anyone who would like to grow their program and recruit additional partners.
What is inbound recruiting?
With inbound recruitment, the goal is to make your program as organically discoverable as possible to inbound candidates. Inbound recruiting can be through a marketplace, a widget, SEO, or even a landing page dedicated specifically to potential inbound candidates. It's a more hands-off approach because you aren't dedicating as much time to identifying potential partners and reaching out. Still, it also requires research to ensure what you're offering in return is appealing and in line with any potential competitors.
Tactic 1: Build a landing page
A landing page is a link on your website that has the specific purpose of converting visitors into leads. It's designed to entice visitors to find out more about your partner program and learn what's in it for them if they sign up. Most importantly, it makes it easy for them to sign up. Here's how to build an effective one:


Make it clear how much partners can earn near the top of the page
Let's be honest: the core reason why people join partner programs is to earn money. So, the first thing most potential partners want to know is how much they can earn. This is why you need to make the potential earnings clear right from the start. A good way to do this is to summarize the potential earnings in a larger font or heading so that it immediately catches the eye. You can then elaborate by explaining in a few short steps how the program works and how many referrals are required to earn a certain amount or other reward. Be sure to mention discounts or other incentives as well. Finally, add a call-to-action button to sign up, which will take them to the form they need to fill out to start the application process.
Help partners understand if they're a good fit for the program
In this section, explain the kinds of partners that are ideal for your partner program. These can be professional marketers or marketing agencies, influencers with a marketing audience for your product, or individuals or businesses who already use and love your product. You can add the logos of partners who've already joined your partner program — the more recognizable, the better. This adds credibility to your program. End the section with another call-to-action button to encourage sign ups.
Include quotes from successful current partners
While this isn't a must, it always helps to add a testimonial from at least one existing partner to explain what the program has done for them. It acts as a short review to tell potential partners that your program is worth participating in. Like the logos of existing partners, this adds credibility. Don't overdue it though! You want to keep the page concise, simple, and easy to navigate, so one or two quotes are sufficient. You can always add a link to a "reviews" section.


Include an FAQ section
While it's very useful to have a section where you explain briefly the special features and benefits of the program, you don't want to bombard potential partners with a wall of text. However, they will want more information before they sign up. An FAQ section with drop-down buttons allows you to cover everything a potential partner might want to know, such as how exactly the program works, how much and how often they get paid, how they get paid, how you track their referrals, and what assistance you provide. The drop-down buttons allow you to display only the questions at a glance, so that the potential partner can then click on the ones they need answers to. The end of the FAQ section is another good place to add a call-to-action button to sign up.
Link to your landing page in your site's header and footer navigation
It's more common to link in the footer and leave the header navigation for information like the different products and pricing, mentioning both as best practices.
Design tips
It's always best to get professionals to create the copy for your landing page and to design it. Here are some tips to keep in mind:
Keep the most important information above the fold. This way, the potential partner doesn't have to scroll down to find it.
Keep the copy concise and conversational. Use "you" and "your" pronouns to make the reader feel like you're talking to them directly.
Don't fill your landing page with tons of text. Have clear headings and use white space to add visual interest that doesn't feel cluttered.
High quality images add visual interest and will entice people to engage with the page. They should be relevant. Avoid stock photos with no clear links to the text.
Cater to your target audience, choosing images that reflect your ideal partner profile. Use images with people of a similar age and background.
Remember your branding when choosing colors and fonts. If your brand colors are shades of blue and green, for example, use those colors in your headings or to frame images. Also stick to a font similar to the ones you use in your logo and on your letterheads. Be sure that the font is legible on all devices.
Make your call-to-action buttons in a contrasting color so that they stand out. After all, you want people to click on them.
Keep page load time in mind. If it takes forever to load high-resolution images and animations on your landing page, many potential partners will click out and go somewhere else. Of course you want crisp, clear images, but Tiller recommends testing your page to find the perfect balance between resolution and download time to avoid high bounce rates.
Optimize the design for different devices. Some people may use a desktop computer or laptop to visit your landing page, while others will use a mobile phone. Make your landing page responsive. This way, someone on mobile can navigate the page just as easily without having to deal with tiny, illegible text.
Test your landing page. This doesn't mean only testing that the page downloads and that links work, it also means A/B testing to see which elements are more likely to earn leads and conversions.
Example landing page
This copy template for partner program landing pages is created by PartnerStack, and is free to use for anyone.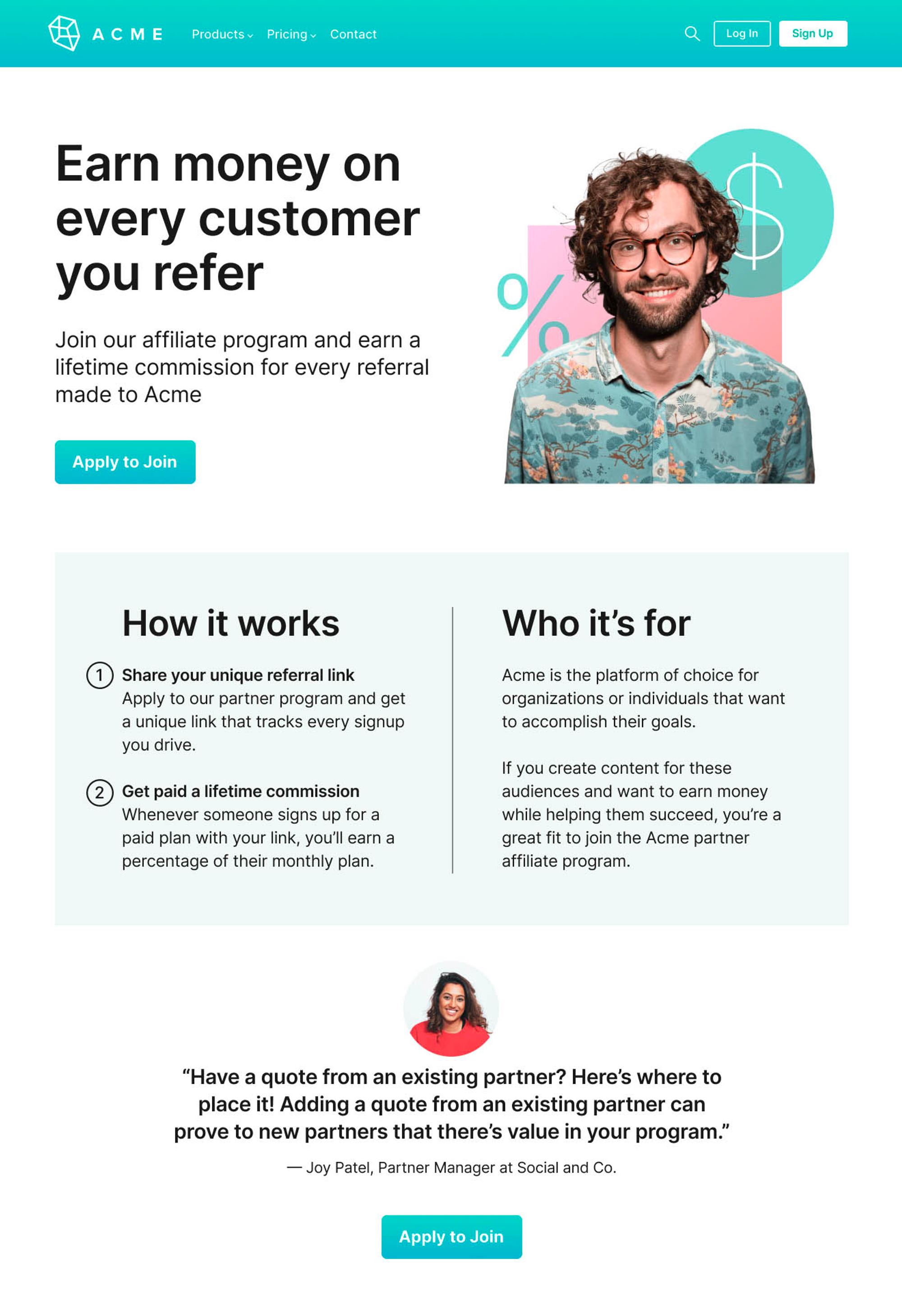 Tactic 2: Get listed in the PartnerStack Marketplace
The PartnerStack Marketplace promotes your program to thousands of partners that already use PartnerStack to earn money by driving business and revenue for SaaS companies like yours.
Programs listed in the PartnerStack Marketplace can be browsed at market.partnerstack.com. Every program on the PartnerStack Marketplace comes with its own landing page that links directly to your application form, making it easy for partners to apply to join. (We still strongly recommend having a separate, dedicated landing page for your program on your website!)
Partners can also explore programs to join directly from within their PartnerStack dashboard.
The PartnerStack Marketplace drives millions in revenue for PartnerStack customers every year, with some programs seeing more than 30% of their entire program revenue come from partners that joined through the PartnerStack Marketplace.
Adding your company's information
To locate the page where you can add in your company details, follow these steps:
Select Settings in the menu on the left-hand side

Once you've landed on Profile, complete the Company profile section:
Company name:
Company website:
Phone number:

Not shared publicly, stored for internal purposes.

Fiscal start date:

Not shared publicly, stored for internal purposes.

Company description:

A short description of your company, including the product and services provided, the character limit is 255

Brand color:

Appears as an accent color on the marketplace tile, partner dashboard, program page, and application forms. Select a color with the color picker, or paste in a hex value.

Logo:

Recommended format: Square PNG at 600 x 600 pixels. The minimum required size is 300 x 300 pixels and supported files are JPEG, PNG, or GIF. Include background. Transparent backgrounds will be formatted in grey.Appears on the marketplace tile, partner dashboard, program page, and application forms.
Customizing your program page
Your program page is a PartnerStack-hosted landing page that partners view when joining your partner program. It provides a high-level look at how your program works and what incentives they can expect to earn when active in your program.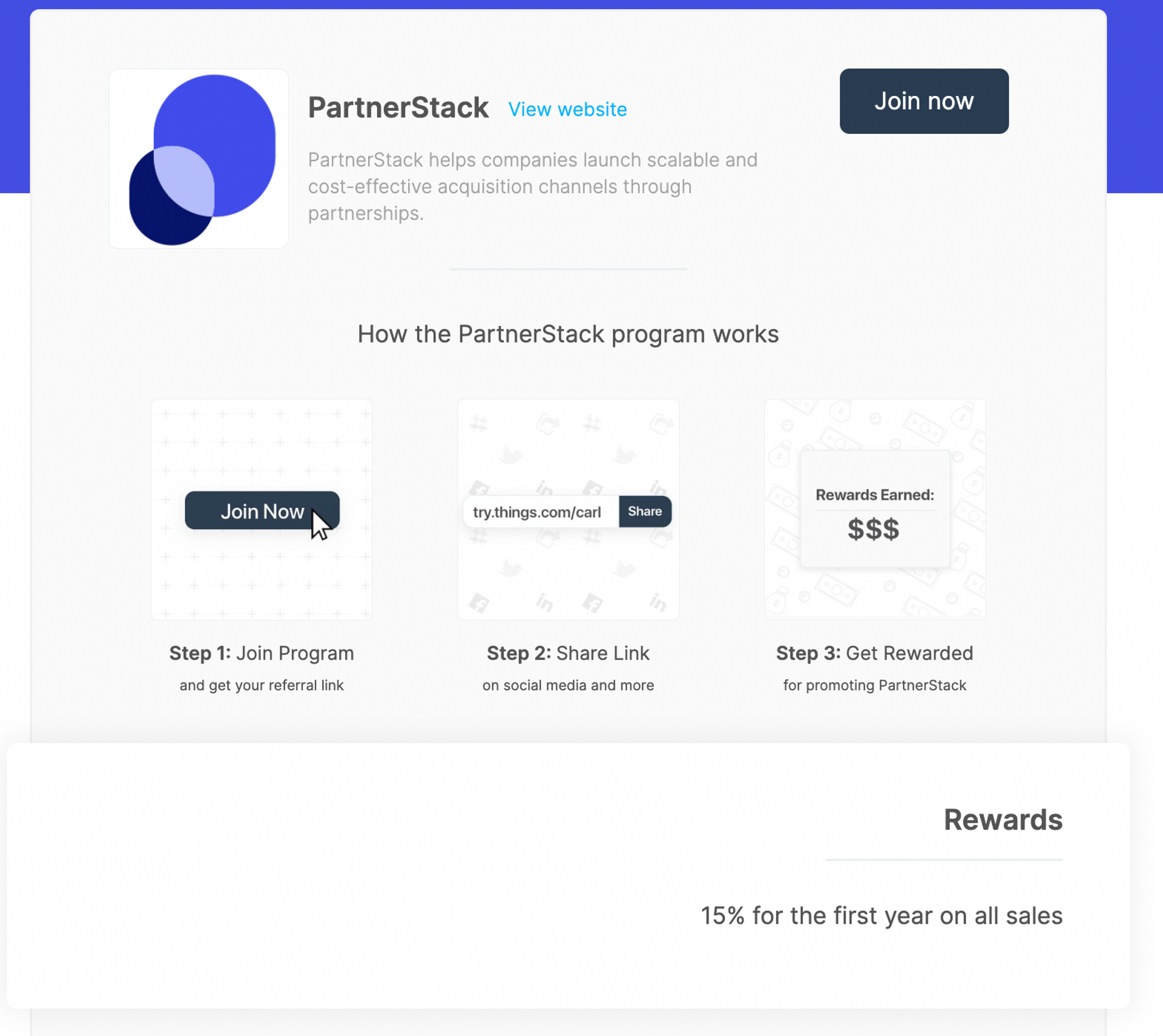 The following items on the program page can be customized within your PartnerStack dashboard:
Company name
Website
Description
Logo
Brand color
Rewards (also known as offers or incentives)
The other items on your program page, such as the Marketplace category, the FAQs, and the "How this program works" section, cannot currently be customized within your PartnerStack dashboard. If you wish to make changes to those sections, please contact your Customer Success Manager or email support@partnerstack.com.
With the exception of Rewards, all of the items listed above are configured in the Company profile.
Customizing your program page rewards
By default, the reward displayed on your group-specific program page is the first offer created in the group. On the default program page, it is the first offer created in your default group.
For a variety of reasons, you may not wish for the first offers created to show on all program pages or your Marketplace listing, or you may wish to have more than one offer show there.
To customize the rewards displayed on your program page:
From Settings, click Partner pages
Under Program page, select the group you wish to customize the displayed reward for
Enter your desired copy. If you wish, you can add several.
Save your changes by selecting "Save profile" at the bottom of the page
Please note that this is a text description only and does not create any offers or any reward automation.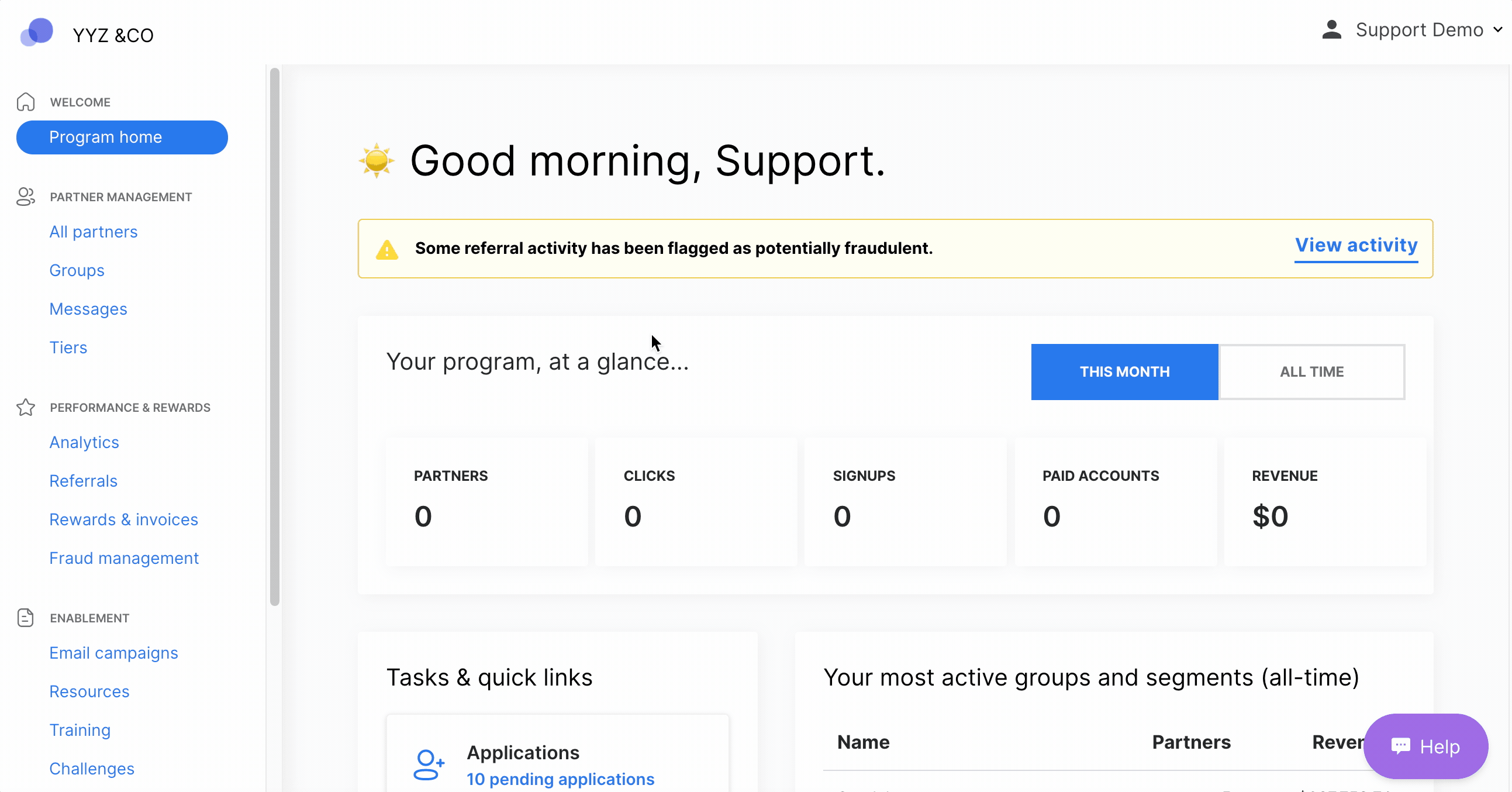 Customizing your Marketplace listing
The PartnerStack Marketplace is a place where PartnerStack partners can find partnership opportunities in our network.
Many of the details covered above, such as adding in your brand color, company logo, and description will be applied to your Marketplace listing. To learn more about those options, see Adding your company's information.
When partners are joining your program from the Marketplace, they will view your default program page. This page provides them helpful information such as what rewards they can expect to earn in your program and how your program works.
If you want to customize the reward displayed on your default program page, which is the page partners will view when joining from the Marketplace, see Customizing your program page rewards.
There is also the option of customizing your Marketplace tile. This is the promotional block that appears in the PartnerStack Marketplace, as well as the in-app marketplace located in the partner dashboard. It will look similar to this: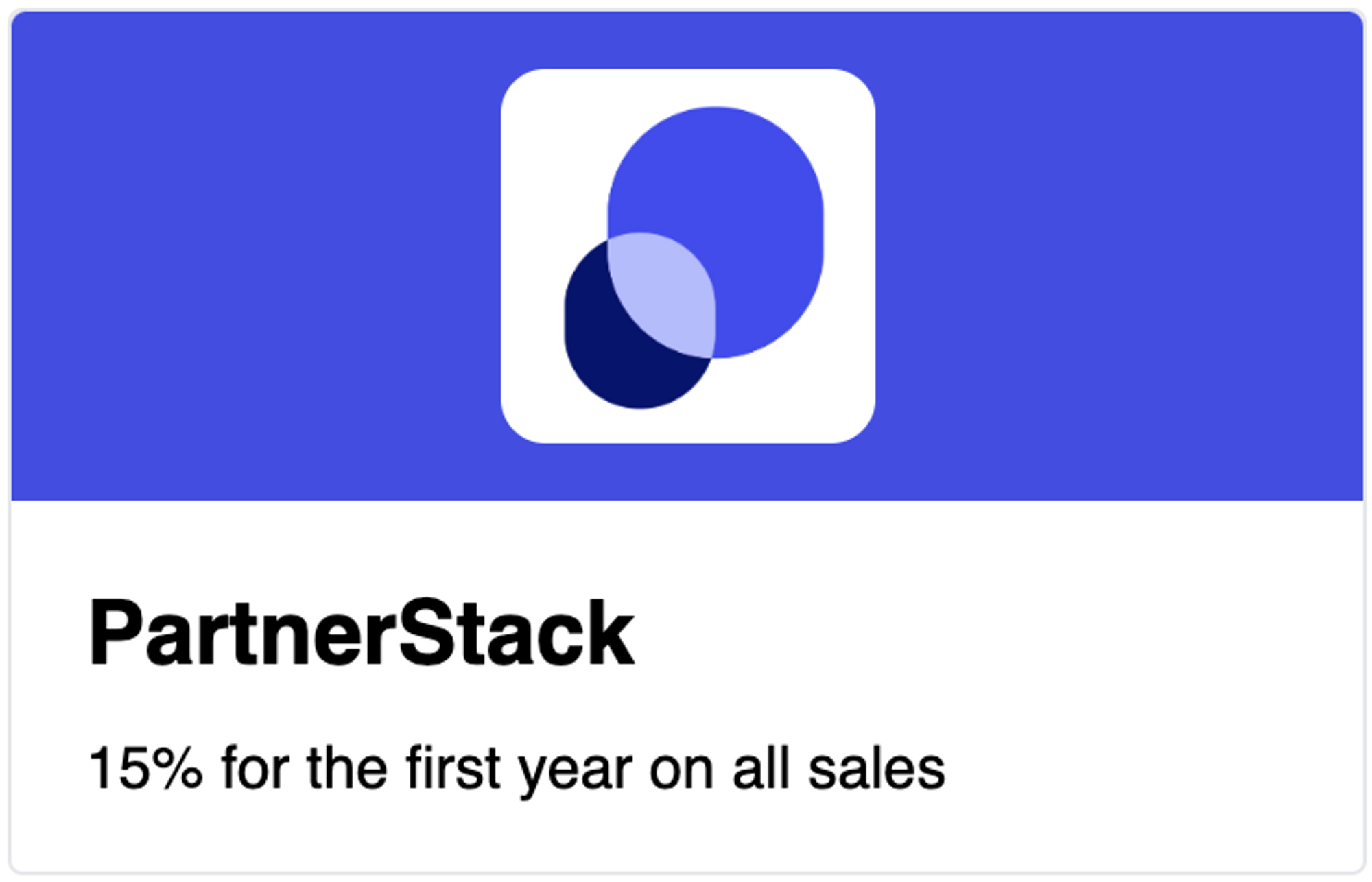 Along with the brand colour, brand logo, brand name, and description, you can customize the offer incentive on your Marketplace tile as well.
To add an offer description:
Under Settings > Partner pages, scroll down to the Marketplace listing section
In the "Marketplace offer" field, add your offer description
Save your changes by selecting "Save profile" at the bottom of the page
Adding keywords to your Marketplace listing
To increase your Marketplace visibility to searching partners you can select from a list of pre-determined keywords to add your Marketplace listing. The keywords you add to your Marketplace listing are not visible to partners, but allow partners to search keywords to find programs that align with their interests.
Adding a keyword:
Select Settings in the menu on the left-hand side
Scroll down to Marketplace listing
Under "Add searchable keywords your listing" click on the drop-down menu
Select your desired keyword
Changes will save automatically
There is no limit to the number of keywords you can add to your listing.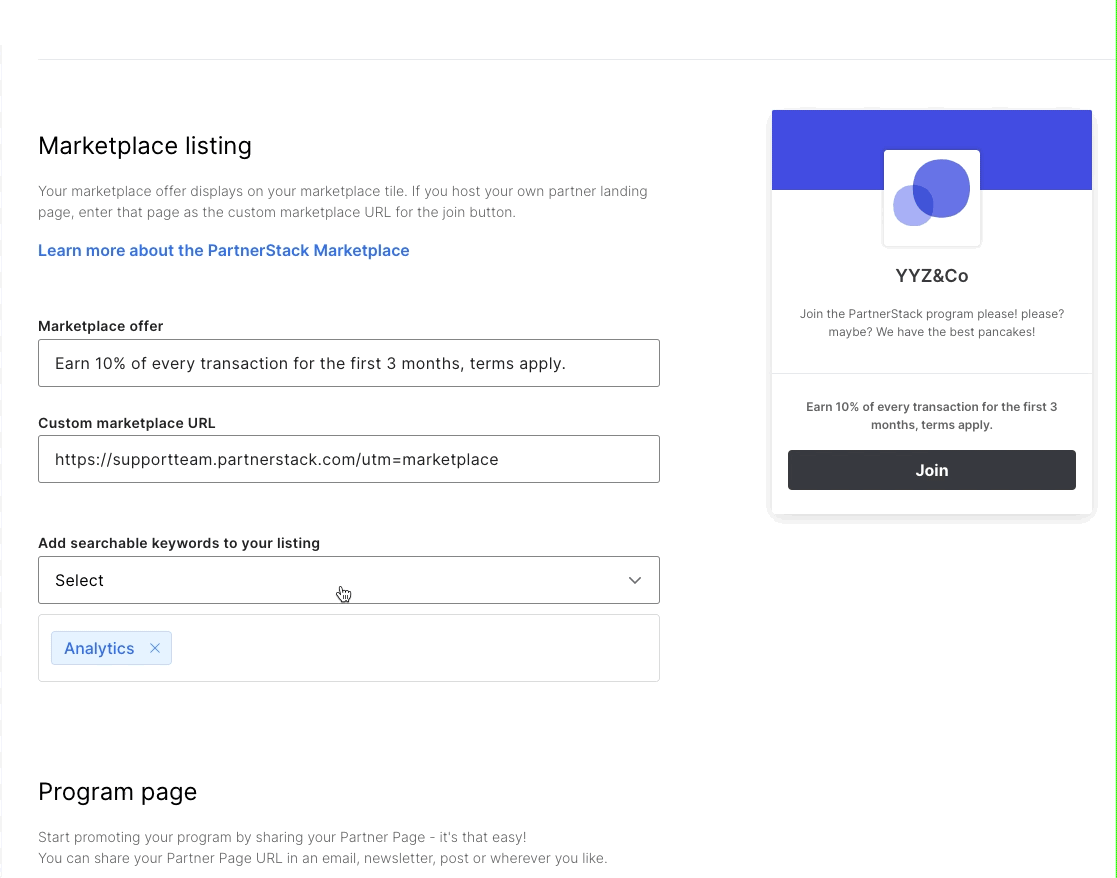 Tactic 3: Create a compelling application form
Application forms help ensure that you get the highest possible quality of partners. By asking the right questions, you can set proper expectations for your applicants.
Enabling application forms
Application forms are group-specific. This means you can customize your applications based on the partners you would like to invite to each group.
To enable applications for a group:
In the Vendor portal, click Groups in the left-hand navigation
Select the specific group you would like to create an application form for
Click Application
Click Create a new application form, then Continue

If you've previously created an application form for a different group, you can instead choose to copy it.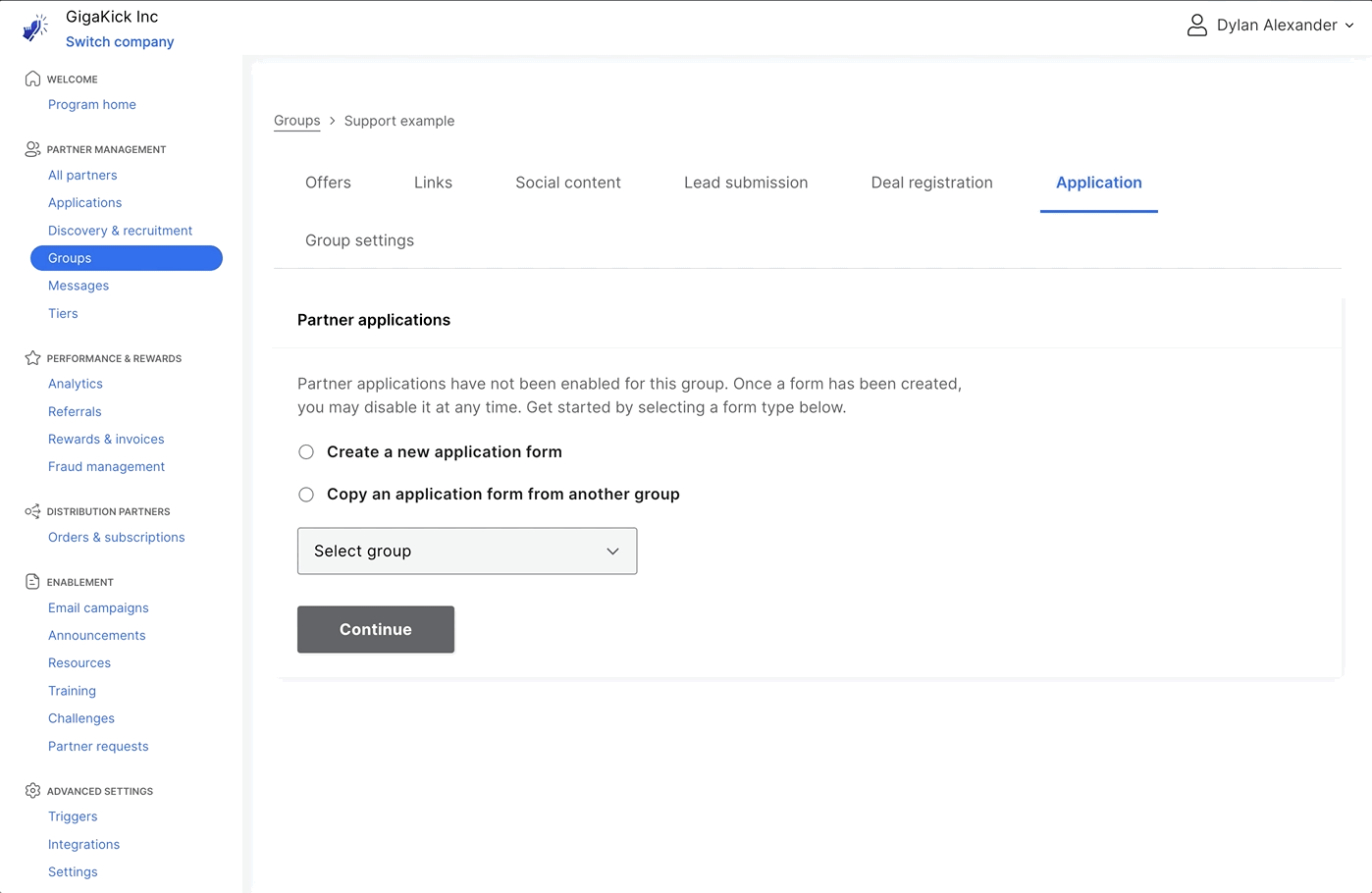 Configuring application forms
There are a number of configuration options available, but for our purposes, we're just going to focus on application fields. If you're interested in diving further into the full power of applications, please read Using Application Forms.
When configuring your application, we recommend using your ideal partner profile to craft the questions you'll ask. There are a few important items to consider:
Only ask for the information you need to determine if a partner is a good fit. The longer your application form is, the more likely people are to abandon it. While this can weed out poor quality partners, it can also cause partners that would be a good fit to seek out other programs.
Include a space that explains what you expect from potential partners. This will help ensure that partners are fully informed of what they'll be expected to do. This can be done using the Description section of the application form.
Revisit your application form regularly. As you receive applications, you may discover that you need additional information you haven't been asking for. Alternatively, you may find that you are receiving information that isn't factored into your decision criteria. By optimizing your application form over time, you'll increase the quality of applicants coming through.
Additional tactics to consider for inbound partner recruitment
Have a dedicated person or team to answer emails or Slack questions when inbound partners reach out
Review new applicants in a timely manner
List yourself in any relevant marketplaces ideal partners may visit
Compile resources or education opportunities for effective onboarding (you can use the Resources tab for this)