Who is this article for?

This article is part of a series intended for anyone who would like to grow their program and recruit additional partners.
What is outbound recruitment?
Outbound recruitment is all about outreach to prospective partners and actively working to identify the types of outbound candidates you'd like to work with. Some examples include a Google search or reaching out on LinkedIn to find partners who would be a good fit. From there, partners can send an email or message to see if a company would like to join their partner program. You can also promote your program on social media, reach out to your current customer base, and join partner communities or other partner programs.
Tactic 1: Recruit partners with the discovery tool
The easiest way to recruit high-quality B2B partners within the PartnerStack portal is by using the discovery tool. Vendors can send up to 20 new recruitment emails per week to top, premium, or high-potential partners.
Search: Narrow down your search based on the criteria that matter most to you, including location, industry, and customer base‍
Qualify: Find all the info you need to determine fit on their company profile and flag those that you have reviewed for later with custom tags.
Recruit: The discovery tool includes any information that specific partner requests for outreach (plus best practices) to get you started on your outbound partner outreach.
Note: If you don't have access to the discovery tool within your portal, reach out to your CSM to discuss enabling this feature.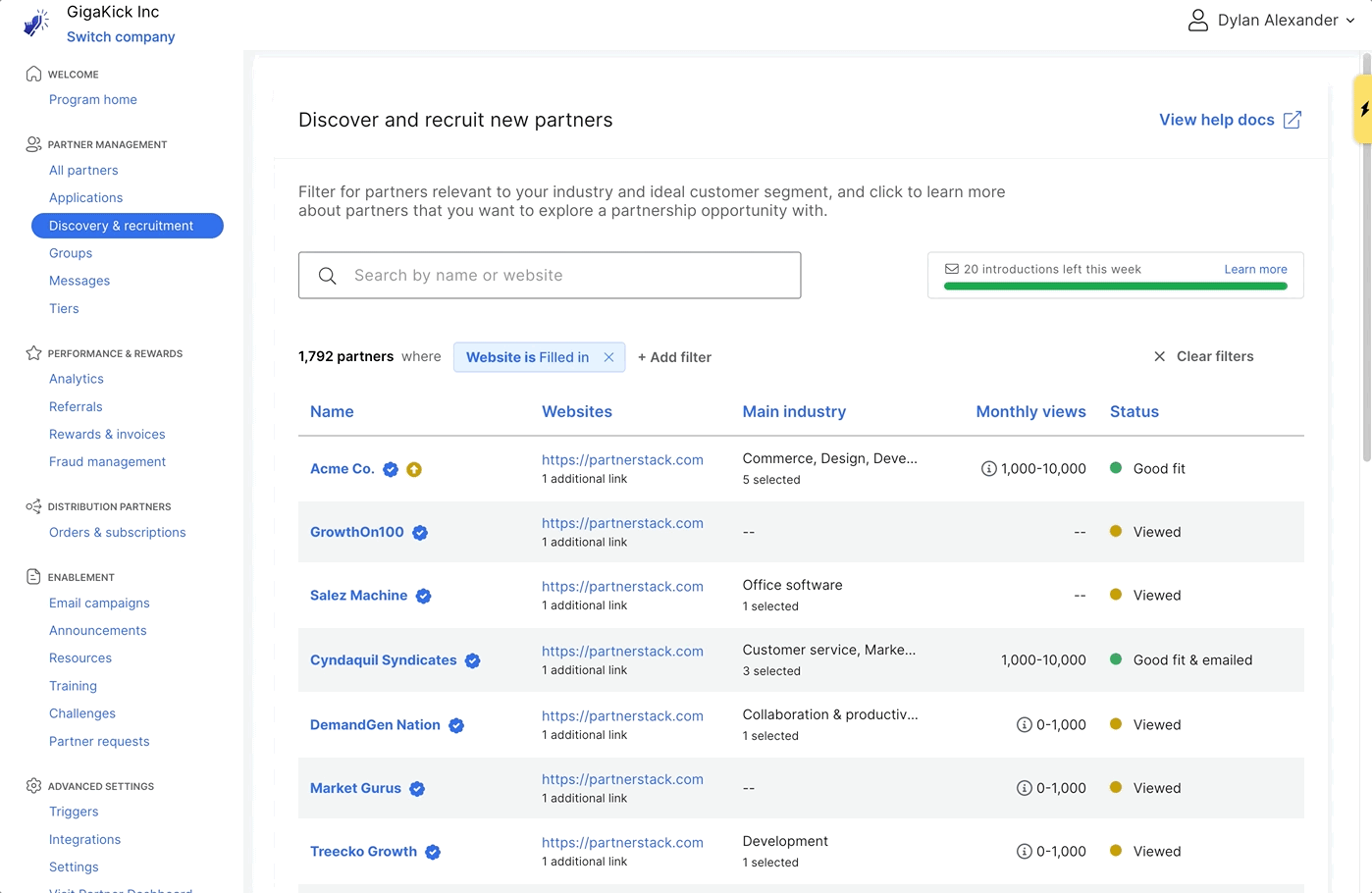 How to use the discovery tool
Click Discovery & recruitment in the left-hand navigation
Filter to the types of partners you're looking for

This is a great opportunity to make use of your ideal partner profile

Click on a partner you're interested in
If you believe they are a good fit, click Next step: Send email
Compose the email
Inclusion in the PartnerStack discovery tool means that the partner has been already identified as a top performer or as having high potential. When going through partners, don't just copy and paste the same script and expect it to yield results. Research the company, understand what they're looking for, and reach out to them with that. This will increase the conversion rates of your emails.
Tactic 2: Find affiliate partner opportunities by searching key terms
For the next tactic, begin by talking to your marketing department and starting a conversation about what terms customers are inputting in search engines to find your company. You'll probably already be familiar with your company's key terms, but you can also use a keyword scraper or keyword research tool to help with this if needed. Search those key terms in Google and analyze the results for affiliate opportunities (hint: any listicle formats are a good bet). While doing this, keep track of any competitors that the search results yield because they'll be useful for the next tactic. It's good practice to track these affiliate results in a spreadsheet that can be as simple as listing the site name, content URL and contact information.
In a broad sense, these are the steps:
Identify: Start with your top keyword terms. Using an incognito web browser, search those terms.
Qualify: Track the results for affiliate link opportunities that are a good fit for your SaaS product.
Recruit: Do your outreach, telling them why your partner program is a good fit in addition to their current partnerships.
Example
To help demonstrate, let's walk through an example:
John Smith is a program manager working at a web design company named Goblin GUI. He's talked with his team and knows that his customers are commonly searching for these keywords:
Website builder
Code-free
Landing page
He opens up an incognito browser and searches these terms. It's important for him to use an incognito browser so that he isn't impacting his searches with previous browsing data.
Going through the top sites, he creates an excel sheet to track his findings. He utilizes three columns:
Site name
URL
Contact details
As he's going through, he's deciding which companies might be a good fit by browsing their website. Since he's previously created an ideal partner profile, he's able to use that profile to help qualify these sites.
In his findings, he found a top 10 ranking site named Top10.com. Through his exploration of the site, he found that they rank the top 10 website builders. This is exactly the kind of partner he's looking for.
John decides to reach out to Stephan from Top10.com. Using key information from their site, he crafts the following outreach message:
Hi Stephan,
Happy Wednesday! I was looking at your tech articles at top10.com, and thought that GoblinGUI would be a great fit for your readers.
I saw you were promoting ElfSight - we have an affiliate program that gives 30% recurring revenue, and your article on website builders would be a great place to promote our Code-Free site builder.
You can check out our program here, or let me know if you want to discuss further.
Best,
John
John has intelligently included specific details from the site that are relevant to their potential partnership. Doing this helps catch Stephen's attention, and it signifies to Stephen that John is serious about the partnership.
When creating your own outreach messages, it is incredibly important to tailor them to the prospect. Generic messages will, more often than not, be ignored.
Depending on if John gets a response, he may craft follow-up messages.
Leverage internal resources and AI tools
As a partner manager, you can take on this Google hunt yourself, but there are also others within your company you can outsource it to. These include your BDPs or sales department; these people already know your value proposition, making them ideal collaborators. If internal resources don't allow it, have no fear. With just some quality control checks from you, an intern or a virtual assistant can be taught this motion in as little as half an hour. Alternatively, leverage AI tools to make easy work of this task. We recommend Respona for crawling Google results, Channel Crawler for YouTube videos and Octopus for LinkedIn outreach.
Tactic 3: Backlink search to discover potential partner opportunities
Since you're now already a Google magician from tactic two, keep that momentum going with this backlink-searching tactic for outbound partner recruitment (first shared in this guide from Postaga). Backlink searching allows you to scan competitors' domains and see the inbound links leading to them. We recommend Moz for their free 30-day trial (which will give you enough time to complete your audit and determine a value case for the paid version). Export those results and search for common endings associated with affiliate content, then it's time to send those recruitment messages.
Identify: Using the previously saved list of competitors (plus any other competitors and adjacent B2B SaaS companies that are relevant to your product), scan the inbound links driving to those sites.
Qualify: You can now identify any affiliate content, filtering out any non-reputable sites. For a complete walkthrough, you can refer to Postaga's guide on how to do this, including their list of affiliate-related URLs.
Recruit: It's time to hit up the contacts and share why your program would be a great addition to their current affiliate marketing.
The following presentation walks you through the specifics of how to tackle this:
Affiliate links commonly have similar construction. There has to be something to track them. We've found the following codes to be particularly useful:
| | |
| --- | --- |
| ?fp_ref | ?ref= |
| ?via | ?tap= |
| ?deal | ?gspk |
| ?_from | utm_source=partnerstack |
| ?_by | utm_source=referral |
| ?_get | ?fpr |
| ?_go | Grsm.io |
| $_r_ | ?fp_ref |
Using a free tool, such as Moz's 30 day trial, go to the Inbound Links section. Analyze the site and export the results. You'll then want to search the export for the above codes. Finding those, click on the site, find their contact details, and reach out.
Hunt down adjacent products
We suggest searching for adjacent technology rather than direct competitors when using this backlink search tactic. Poaching isn't the goal here; you're not trying to find someone who provides the exact same service and steal them away. Instead, find people who are adjacent to you. In doing so, you can offer your product as an additional service to that overlapping audience. It's a much stronger sell than simply offering a slightly better reward structure, for example.
With each tactic, a creative and adaptable mindset is key to success. Partner recruitment is being an entrepreneur within your own company. You have to adopt the mindset that you're going to experiment.