Triggers are an extremely powerful feature that allows you to automate actions to occur when specific things happen in PartnerStack. This article will go over the different options associated with Offer triggers. To learn how to create a new trigger, please see this article.


To create an Offer trigger, find the section labeled "event".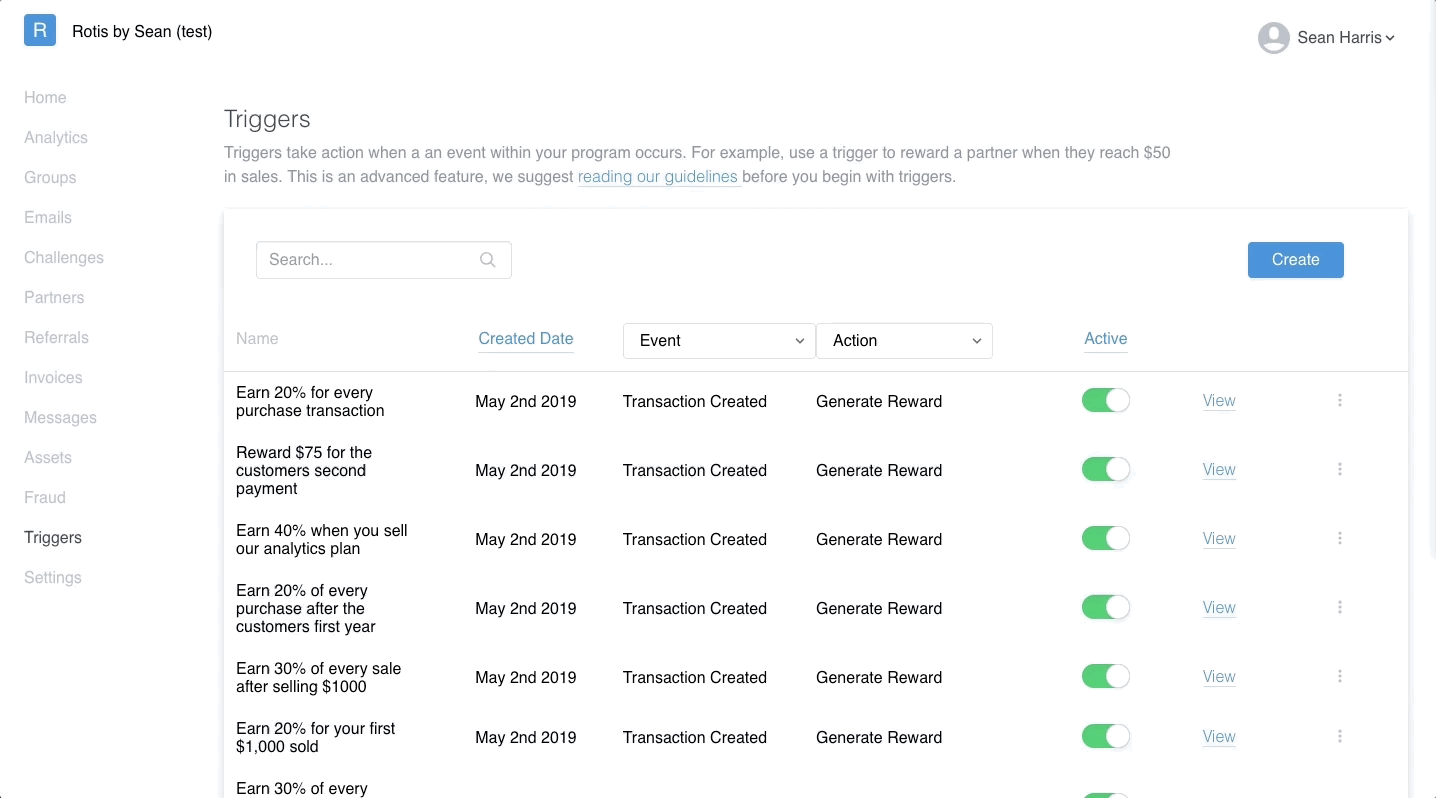 The event determines when a trigger should take action. For Offer triggers, your options include the following:


Link Click

- A new link click has been created. Link clicks are created when someone clicks your partner's link.




Signup Created

- A new signup has been created. Signups represent customers that have been referred by Partners through a shared link.




Transaction Created - Anew transaction has been created. Transactions represent a purchase made by a Customer that has signed up through a partner.


Partner Joined

- a partner has joined a new group in PartnerStack. This applies to partners group moves regardless if they are being moved to a new group, or are new to the program.
Note: Typically Transaction Created and Signup Created are used to drive offer actions.
Now that you've selected the trigger event, you need to determine what rules need to be met before the trigger will fire.  To create rules find the section labeled "rules".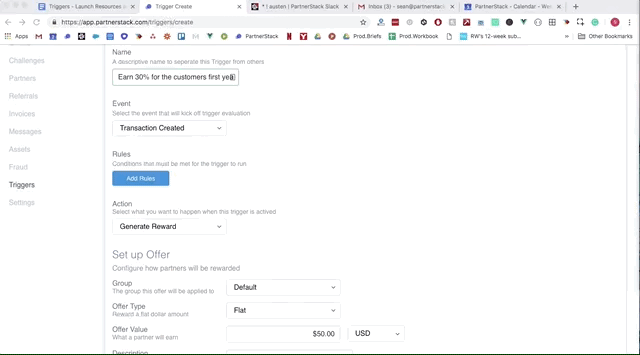 Rules are built from fields and aggregations on objects that exist in PartnerStack. For Offer triggers specifically, you can add Partnership, Transaction, or Signup rules.
Examples include "Transaction Product Key is SaaS_500_monthly" and "Signup is younger than 1 year".
Finally, you'll add trigger actions. To create an action find the section labeled "Action". The trigger action is the specific action the trigger takes when the trigger event and rules are met.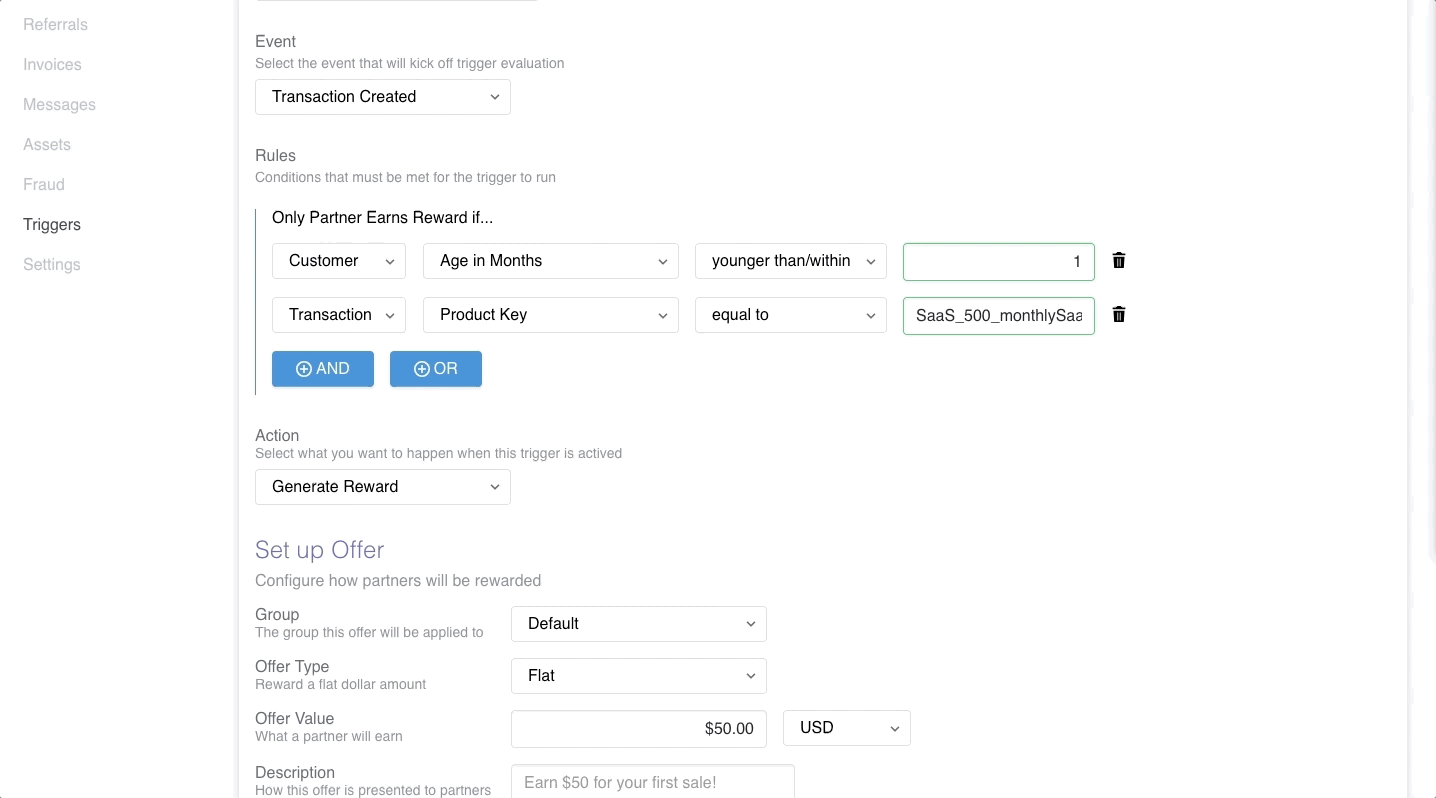 There are 2 available offer actions that can take place when the trigger rules are met. Not all trigger offer actions may appear - they are conditional based on the event you've selected. For example, if you select "Signup Created" as the trigger event, you won't see the "Percent" offer type option.
Trigger Offer Actions:
Generate Reward

- Add either a

flat dollar

reward or a reward that reflects a percentage of the transaction for a specific partner


Note: When setting offer related trigger actions, the description is displayed to the partner and informs the partner how they can earn the reward.

Examples include: "Earn 20% of every sale made" and "Earn a bonus $100 for your 10th sale"

If you have questions about how to set up specific common offer triggers, please read Sample Triggers: Common Offers Triggers