If you are looking to work with other people or teammates on programs, creating a partner team may be a great option for you.
Creating a partner team will allow members you invite to join your account to have their own PartnerStack account and links while enabling them to collaborate with you on your partnerships.
Partner teams allow organizations to cooperatively promote and resell products as a collective, rather than as individuals.


Note: It is currently not possible to delete a team once created. Please consider carefully before creating your team.
Quick links:
Creating a team
Inviting, removing and updating team members roles

Creating a team
Any partner can create their own Partner Team on PartnerStack. When you create a Partner Team, this automatically makes you the Team Owner. A Team Owner can control which programs the Team joins.
If a Team Owner joins a new program, all Partner team members will also have access to that program through the Partner Team.

Team Members can join other programs on PartnerStack outside of the Team they are a part of, including programs their team is already a part of. Both Team Members and Team Owners can simultaneously be in multiple Partner Teams, as well as multiple programs as an individual. All Members within a Partner Team can see the full sales pipelines and activity of others within the team.
To create a partner team, follow these steps:
2. Navigate to your Settings page by clicking the arrow next to your name in the top right-hand corner
3. Scroll down to the "Create Team" field at the bottom of the page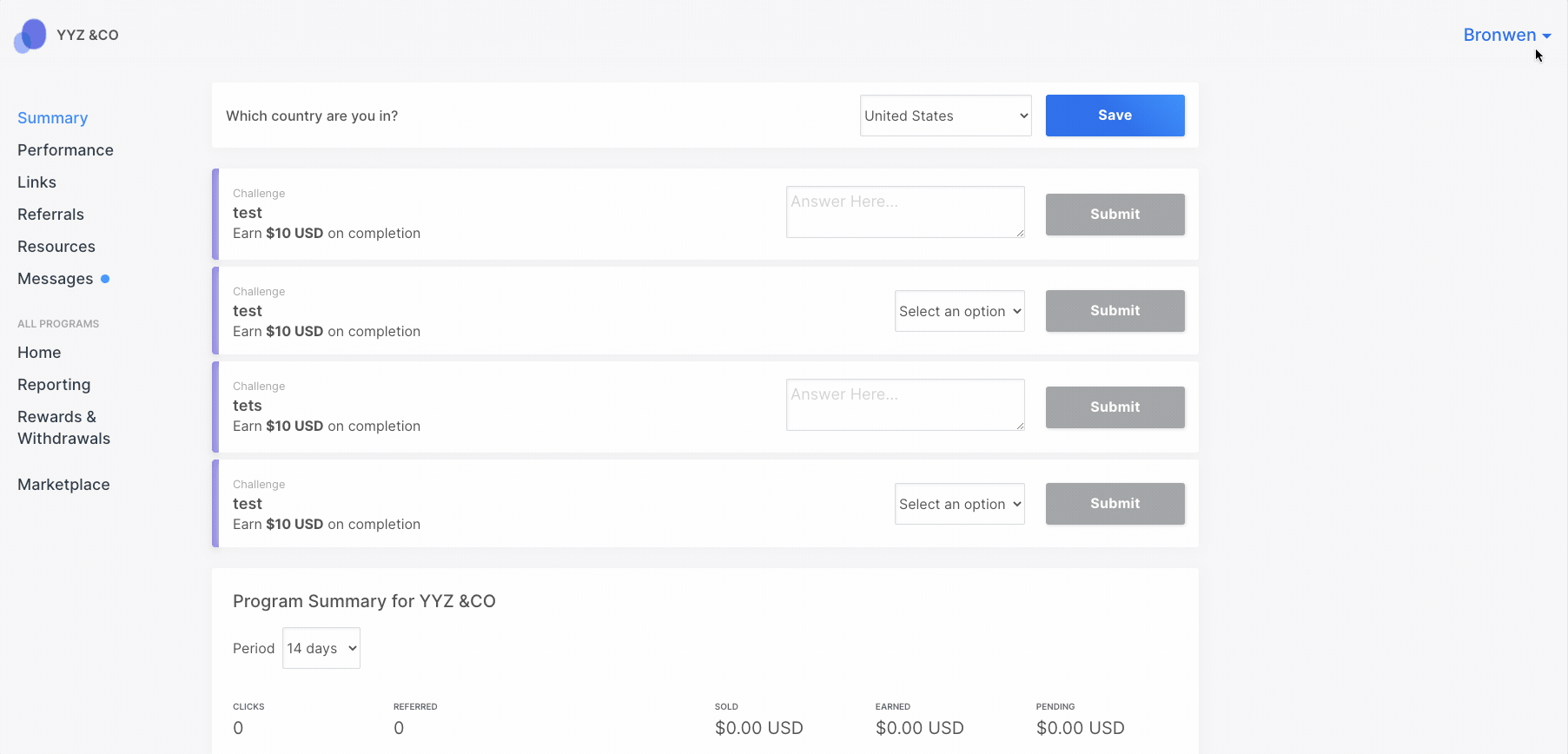 4. Add in your team name, and click "Create"
Inviting, removing and updating team members roles
A Partner Team is managed by one or more Admins who can:
invite new or existing PartnerStack users to their team
remove Team Members
promote Team Members to Team Admins
control Partner Team configuration
Once you've created and named your Team, you'll see that you now have a menu option on the far left called "My Teams". When you click on My Teams, you'll be able to invite teammates to join your new team.

To invite a new teammate, follow these steps:

1. Log into your account
2. Navigate to My Teams
3. Click "Invite Member"
4. Enter the desired teammates email address, and then click Send Invite.
Once sent, the Team Member will receive an email invite. On the Invites tab you'll be able to see if they've accepted the invite, click a link to copy that they can use to accept the invite, or resend the email:


To remove or update a Team Members role, follow these steps:
1. From My Team, select Members so that you are viewing the list of current Team Members
2. Next to the name of the Team Member you are wanting to remove, click on the three little dots
3. Select "Remove" or "Update" from the list
Remove will require you to confirm that you want to remove the selected Member.
Update

will give you the option to make a Team Member an Admin or downgrade to Member. Keep in mind that Admins have the ability to change the Configurations and add, remove and update other Members as well.

Settings and configurations
On the Configurations tab within My Team, you can choose if you wish your teammates to be able to view the rewards they have earned, or if you want them hidden.

If you are a Team Member with limited permissions, you will only be able to view who your other Team Members are. You will not be able to change anyone's roles, permissions, or settings.
If you are a Team Owner or Admin, here's how you can choose if your Team Members can view rewards activity or not on the Configuration tab.
2. Navigate to My Teams in the menu on the far left-hand side
3. Select the Team you are wanting to edit the settings for out of the drop-down (if you have multiple- if you don't, skip this step!)
4. Select Configuration from the tabs along the top
5. Choose if you want to Show or Hide Rewards:
Show = Team Members see all rewards lines and rewards statistics
Hide = Team Members cannot see the rewards generated for their activity.
Payouts and rewards

All rewards generated as part of a Partner Team are paid out to the Team Owner solely, and cannot be split up between Team Owners and Team Members within PartnerStack.