Who is this article for?

This article will be useful to you if have a partner team on PartnerStack and would like to verify your domain so your colleagues can join your partner team automatically.
What is domain-based joining?
Domain-based joining allows partner team owners to enable your colleagues to join your partner team automatically when they create their PartnerStack account. This means when a colleague with the same email domain as you goes to create their PartnerStack account they will be prompted on signup to join your existing PartnerStack partner team.
Verifying your domain to allow domain-based joining means you will never have to worry about inviting future colleagues to your partner team; it will be done for you!
Companies, please note that this feature must be enabled by the partner team owner and for security purposes cannot be done by you on behalf of the partner.
To verify your domain
To set up domain-based joining, the partner team owner must first verify that they own the email domain used on their PartnerStack account. You, the team owner, can verify ownership of your email domain by sending a verification link to one of four pre-set email addresses:
security@domainexample.com
admin@domainexample.com
hello@domainexample.com
partnerships@domainexample.com
If you have signed up with a @gmail.com, @yahoo.com, @hotmail.com, or any other generic email domain, you will not have this option. If you later change your PartnerStack email address to a custom or business domain that you own, this feature will appear for you.
If you are the partner team owner you can verify your domain by:
Navigate to your partner team by clicking on your settings at the top-right corner and selecting "Configuration" from the drop-down for the team you would like to verify.
Scroll down and click "Join team using domain" and select one of the four pre-set the email addresses you would like to use to verify your domain

Note: you or another member of your team will need to have access to this inbox

Click "Send email"

Note: After sending your verification email you can resend the verification to a different email by clicking "Change option" or you can resend the email to the originally selected address by clicking "Resend email"

The email address you selected will be sent an email with a verification link. Click this verification link to verify your domain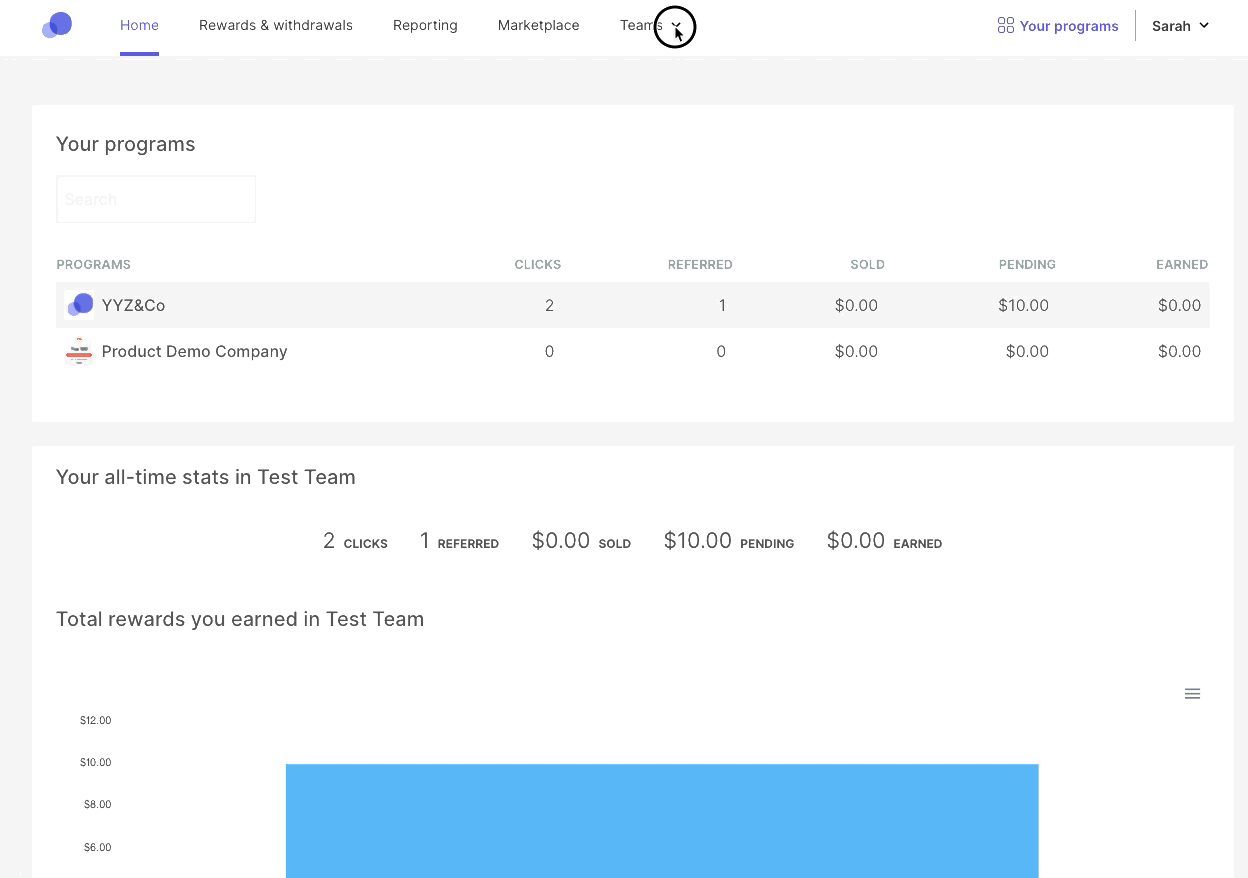 Once you have verified your domain, colleagues that sign up to PartnerStack using an email with the same domain will automatically be prompted to join your partner team on sign up.
To disable domain-based joining
If after verifying your domain you decide you no longer want colleagues to automatically join your partner team you can disable this feature in your team configuration settings.
Navigate to your partner team by clicking "Teams" in the top navigation bar and selecting your team name from the drop-down
In your partner team, click on the "Configuration" tab
Scroll down and click "Join team using domain"
Select "Do not allow teammates to find my team"
Click "Save changes"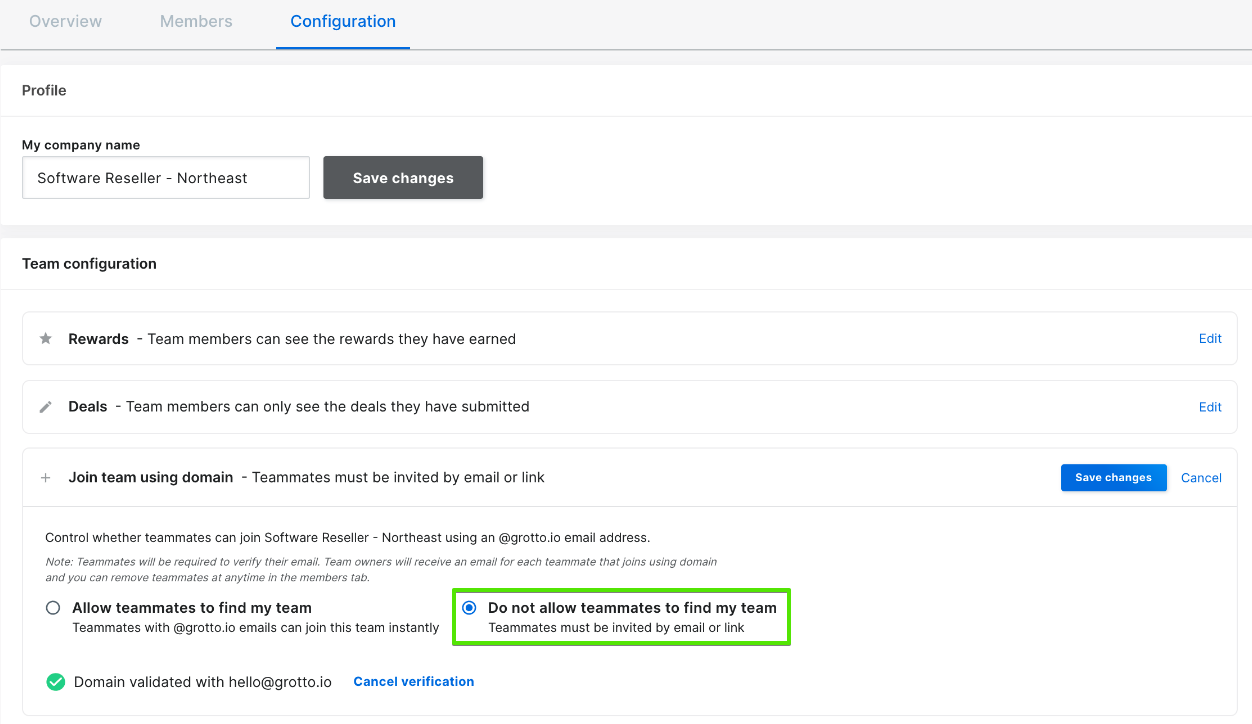 Get notifications when a teammate joins
Want notifications when a teammate has joined your link through your team link, or domain-based joining? In your team "Configuration" tab scroll down to the "Notifications" setting, check the "Recieve an email" box, and click "Save changes".

Joining a team through email domain
To join a team that has domain-based joining set up all a new teammate needs to do is sign up for a PartnerStack account using an email address with the same domain.
For a new team member to join your team:
A new team member creates a new PartnerStack account using an email address with the same domain
The new team member follows the regular account creation flow
The new team member will receive a prompt to join your pre-existing partner team if their email domain matches yours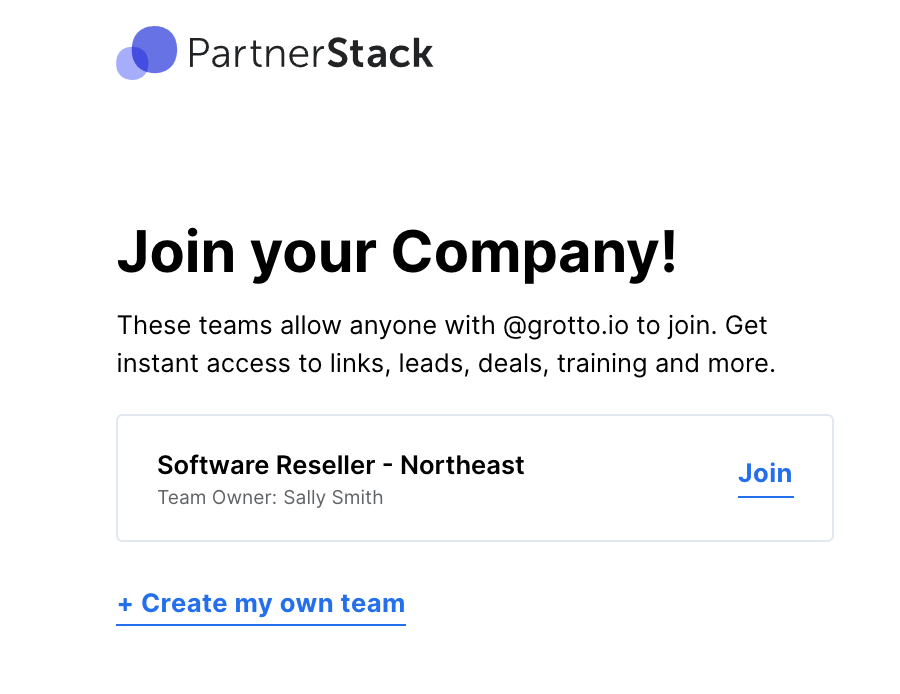 Colleagues creating a PartnerStack account with your verified domain will also have the option to create their own partner team instead of joining yours. This can be useful if you plan to have multiple partner teams for different regions.
For more information on partner teams check out our Creating a partner team support guide.