Welcome to your PartnerStack dashboard!
Completing your Profile
Click on the down arrow next to your account name on the top right-hand corner of your dashboard and go to Settings.
Here you can customize your Email preferences, fill in your Profile (your social media handles, if applicable) and Address so that companies you are partnered with can get to know you better!
Dashboard Features
The Dashboard is broken into two parts; program-specific features and all program features.
Program-Specific Features:
As soon as you sign in, you'll land on your Home page which will give you a high-level overview of the program you are viewing:
Your
Program Summary
(clicks, referrals, sold, earned and pending rewards)
Rewards
offered by the company

Company Challenges (if any are active)

Your unique referral
Link
for the program you are viewing

Quick access to your Referrals (signups)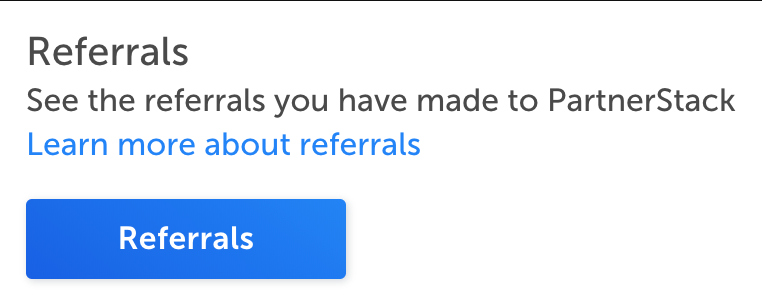 Your program Activity

Your Referral Link
Other than the
Home
page, you can find your referral link on the
Links
tab on the left-side menu.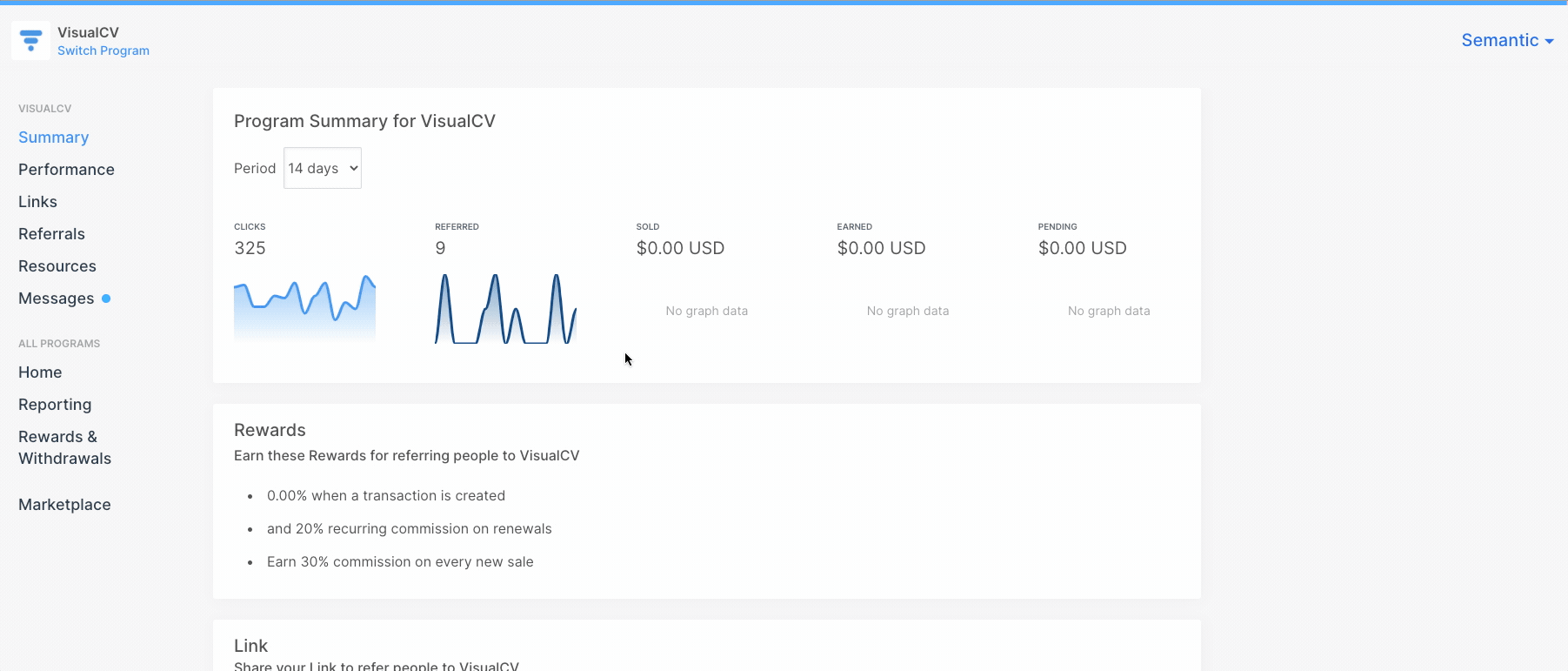 From there you can click 'Copy' to share your link or save it somewhere on your computer and/or phone.
If you click on the social media buttons (Twitter, LinkedIn or Email) a box will pop-up prompting you to log in to your social media account, create your own unique message and share your link directly onto the social media page of your choosing.
Need tips on where to start sharing your link? Click here.
Customizing your Referral Link
A default link will be generated for you each time you join a program. You have the option to create a custom link(s) that will redirect your customers to the same website. This could be a way for you to manage which link you share with specific groups of people or if you want your link to be specific to your offer, brand, etc.
Add anything custom after the / to create your custom link. To learn more, see our support guide
Creating custom referral links.
Resources
are sales and/or marketing material provided by the company you've partnered with. If the company uploaded resources to their program, you can access it by clicking into the
Resources
tab.
You can choose to Preview and/or Download the image or document.

To learn more about Resources click here.
Tip: If you are unable to access the download, make sure to check your browser's pop-up blocker. Google Chrome prevents pop-ups from PartnerStack by default so you'll have to unblock us in order to retrieve the downloaded material.
Messages
You can engage directly with the program manager of any company you're partnered with by clicking into the
Messages
tab.
Your All Program Reporting
Rewards & Withdrawals
(view rewards that are pending and cash out payout)
Explore the Marketplace to see program offers from other companies
To learn more about these dashboard features, click on any of the below links:

Links (change or create additional links)
Rewards & Withdrawals (how it works, when you get paid out and more!)
Referrals (learn how to submit a referral, if applicable)