Welcome to your PartnerStack partner portal!
Who is this article for?

This article will be useful to you if are a partner on PartnerStack looking for general information including account setup and how to contact the companies you work with.
Please note, that you will have a limited view of your dashboard until your first program application is approved. For more information please see the Why is my application pending support guide.
Set up your account
Complete your profile
The first thing you'll want to do is fill out any missing information within your profile.
Click on the down arrow next to your account name on the top right-hand corner of your dashboard and go to Settings.
Fill in your profile and address and save your change so that companies you are partnered with can get to know you better!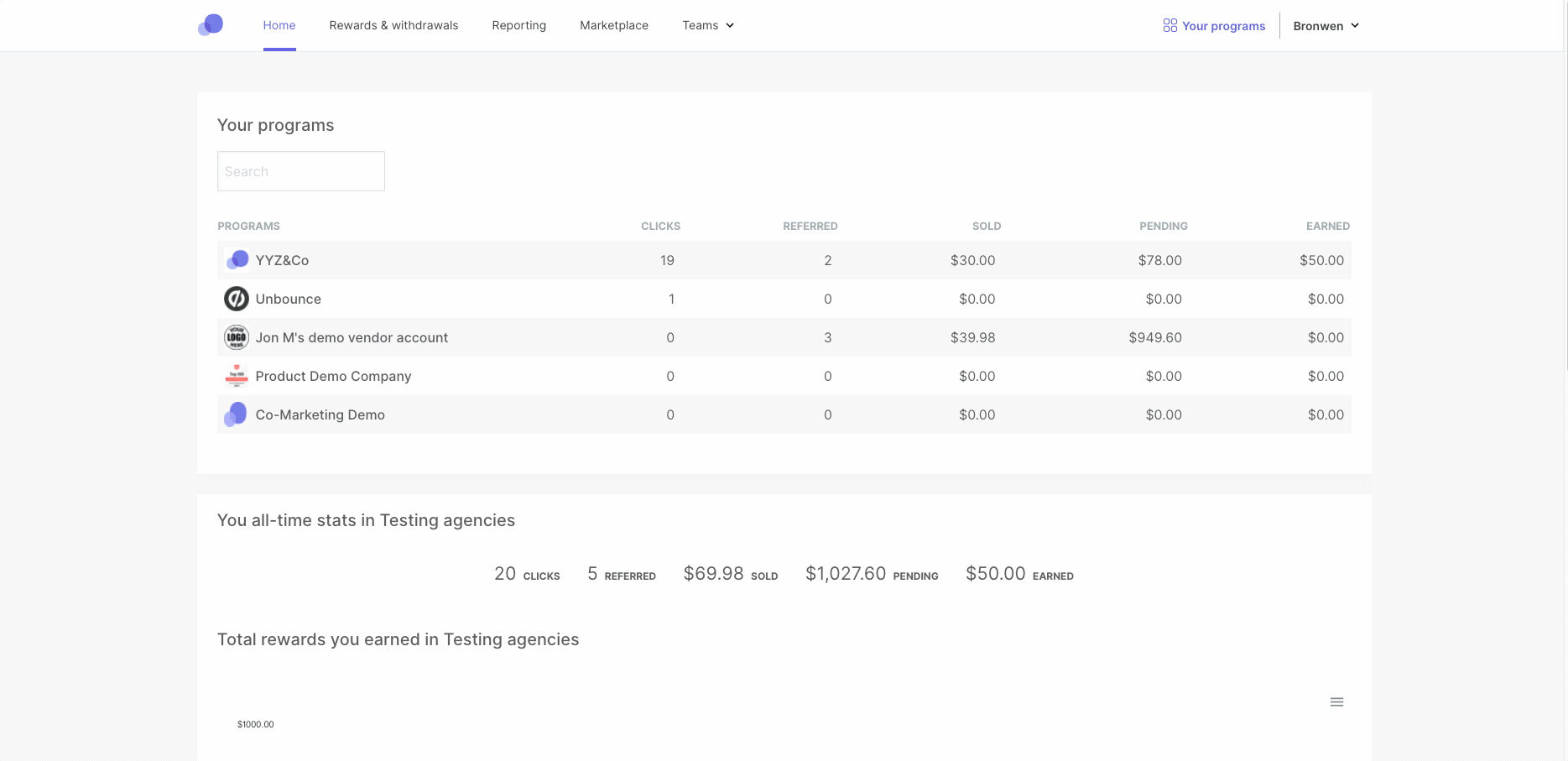 Add your payment information
After you've filled out your profile, you'll want to add your payment information to make sure you can get paid.
At this time, we have Stripe and PayPal available as payout providers to accept your payouts.
You can add your payment provider within Rewards & withdrawals, following these steps:
Click on

Rewards & Withdrawals

in the menu on the left side of the page.
Select Add a payment provider, and choose your selected provider
Follow any prompts to complete adding it in

To learn more, see our support article Adding a Payment Provider.
Learn more about your programs
As soon as you sign in, you'll land on the Home page.
Here you can view breakdown of what programs you are joined with, your all-time stats for all programs you are joined with, and your referral activity for all programs you are joined with.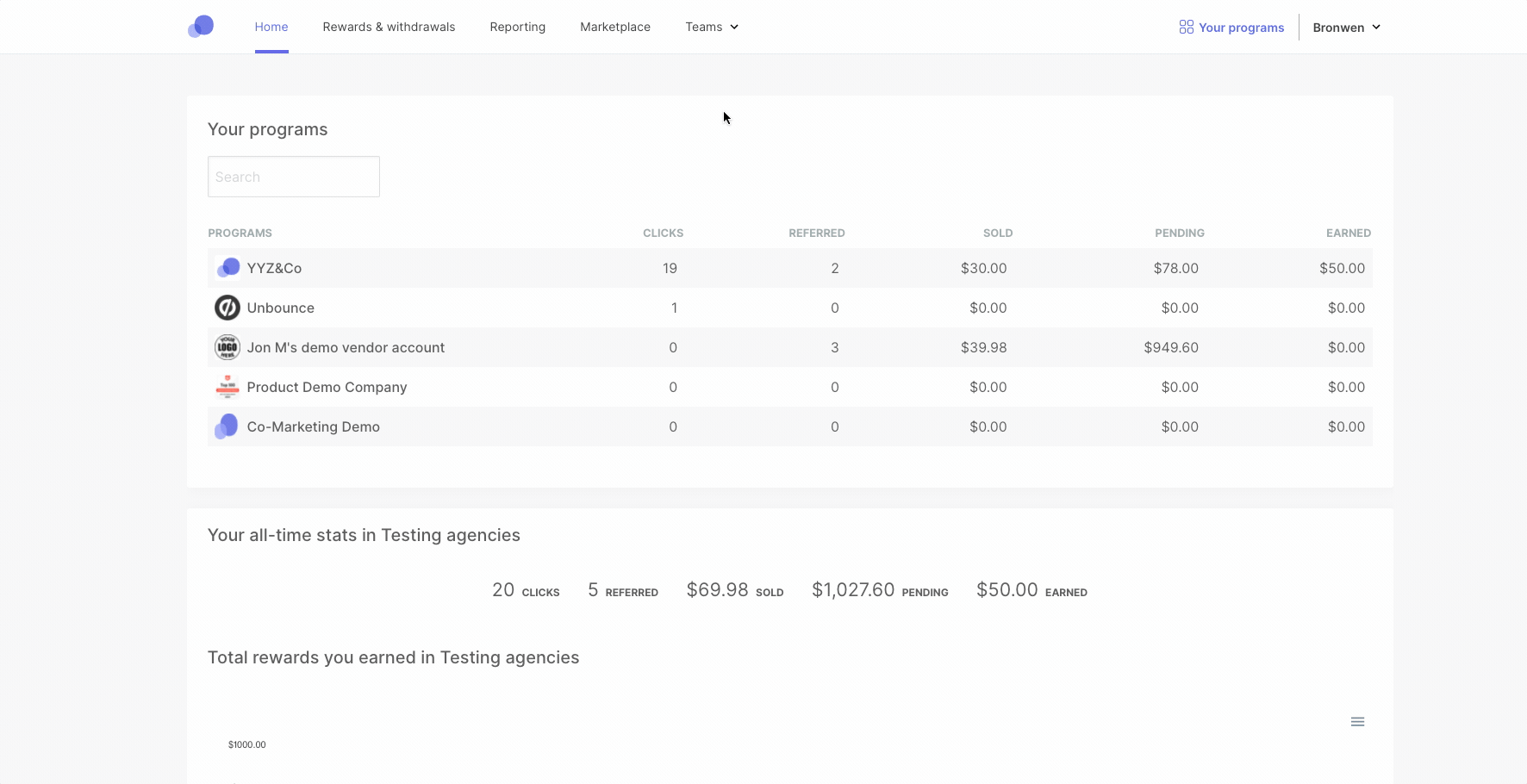 By clicking into Reporting, you can review filterable data and gain insight into your performance across all programs.
The dashboard overview gives you a quick look at some important statistics:
Signups

- a count of unpaid customers in the selected timeframe
Paid Customers

- a count of paid customers in the selected timeframe
Transaction Total

- a sum of all transactions (revenue) made by your customers in the selected timeframe
Reward Total

- a sum of all rewards earned in the selected timeframe
The Rewards overview gives insight into where your rewards are coming from. It can be found by clicking into Rewards on the Reporting page.
All of data in Reporting includes data from all of the programs you are joined with.
To learn more about a specific program you are joined with, you can toggle between them using Your programs in the top right of the portal, or by clicking on the listed name to view the program summary.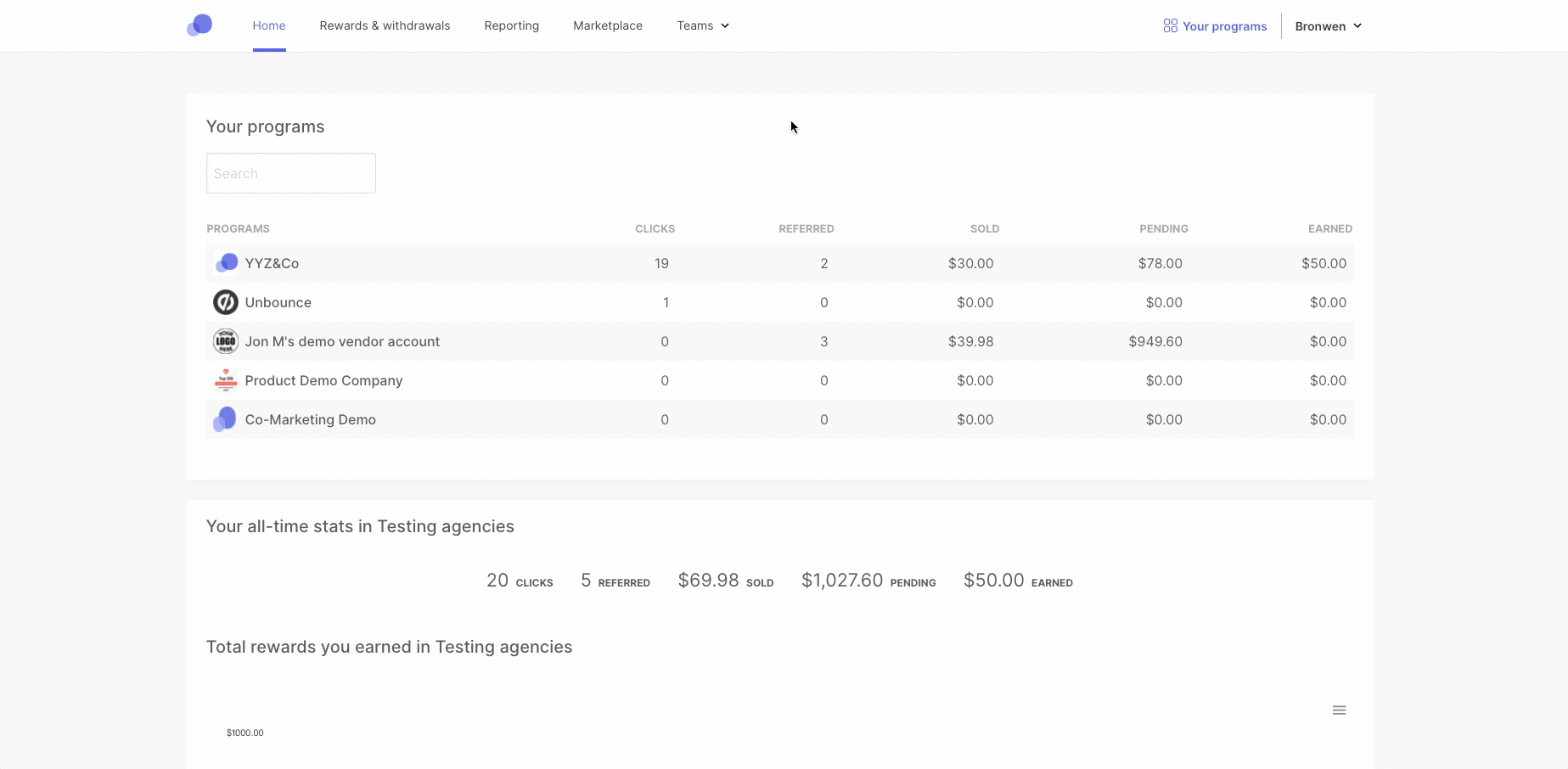 Once you've selected which program you want to view, you'll be landed on the Program summary for that program.
Here, you can easily view what some recent referral data and activity, incentives the program is offering you, any challenges that may be active.
You can then explore what the program has provided you with! All programs are unique, so you may have options such as Training, Co-marketing, Leads, etc.
Many programs will provide you with Resources. Resources are sales and/or marketing materials provided by the program you've partnered with. If the company uploaded resources to their program, you can access it by clicking into the Resources tab.
You can choose to
Preview
and/or
Download
the image or document.
To learn more about resources, check out
What are resources?
Join more programs
Want to keep growing and expanding your portfolio? You can join more programs easily within your partner portal.
Head to Marketplace, and you can browse some of the programs currently active in our marketplace and find your next perfect fit.

Start referring
Other than within each Program summary, you can also find your referral link or create new links (if the program allows) within Links.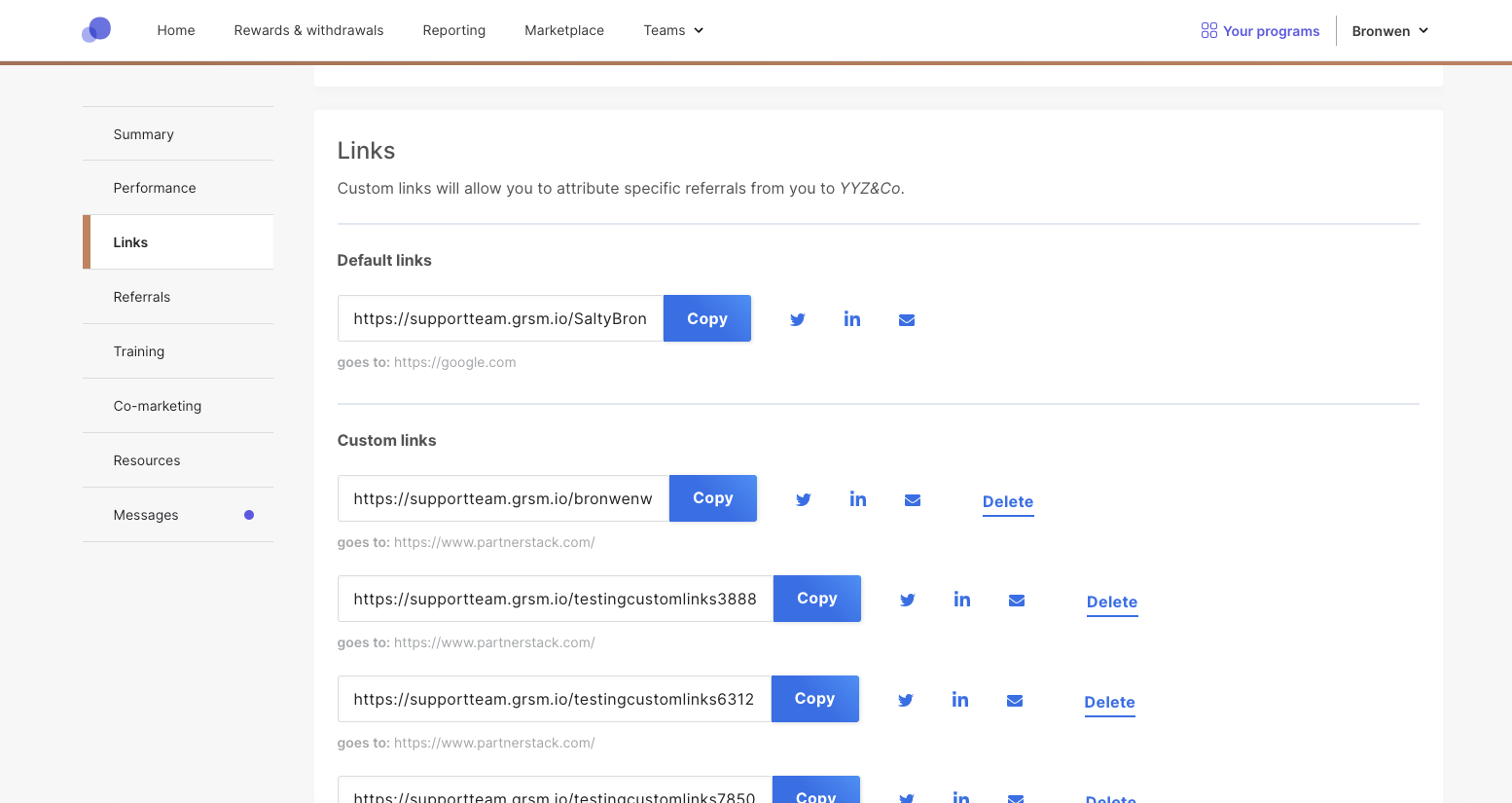 Within
Links
, you can click
'
Copy
'
to share your link or save it somewhere on your computer and/or phone.
If you click on the social media buttons (Twitter, LinkedIn or Email) a box will pop up, prompting you to log in to your social media account. Create your own unique message and share your link directly onto the social media page of your choosing!
Need tip
s on where to start sharing your link?
Click here
.
Custom referral links
If the program you have joined allows it, you can create a custom referral link within Links.
If your program does not allow it, you will see this message:



Getting help
Do you have questions and need someone to talk to?

If your questions are about how a program operates, such as what the commission is, why you can't create links, or where to get pricing, reach out to the program directly through Messages.
Here, you can engage directly with the program manager of any company you are partnered with.
Keep in mind that this is not a live chat service and it may take the program manager a couple of business days to get back to you.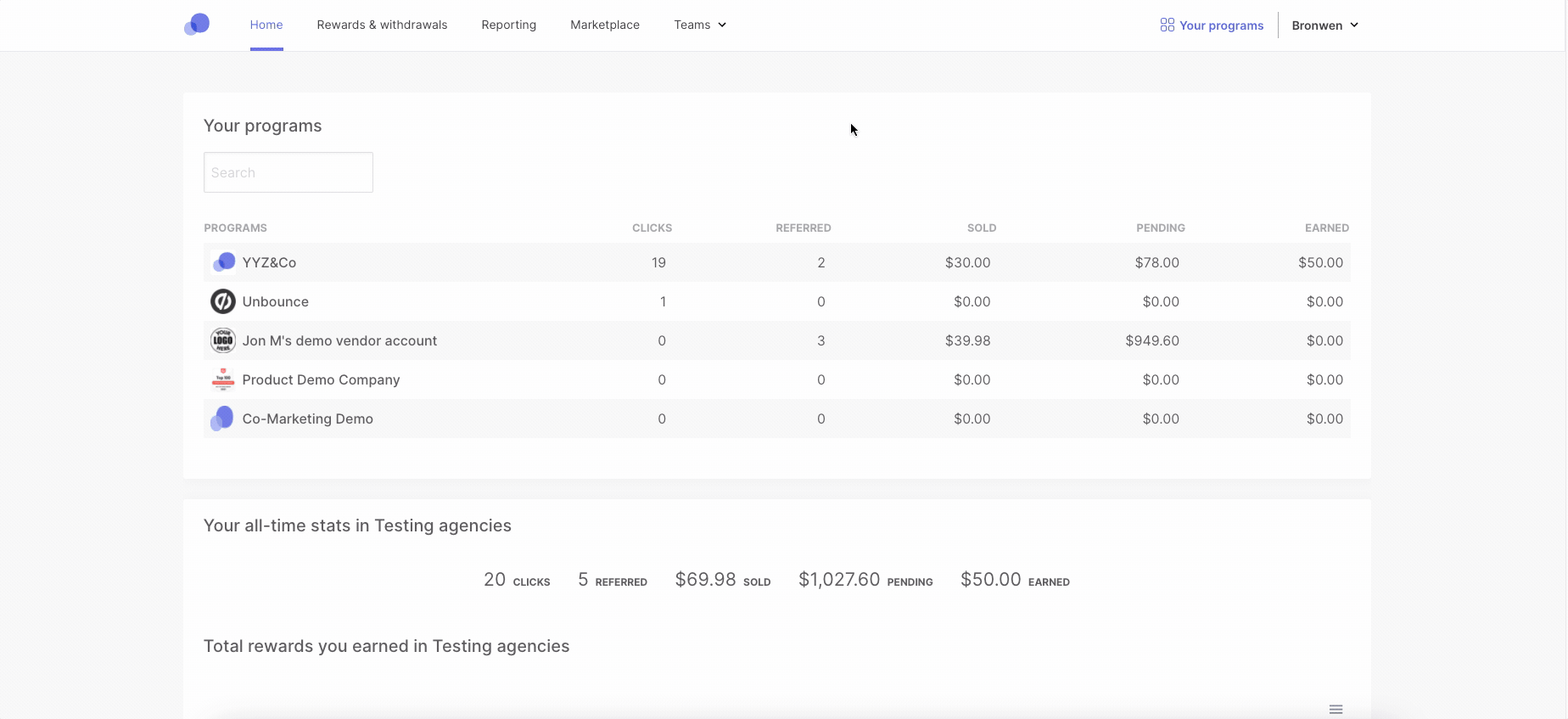 Do you have questions about PartnerStack in general, or are you having issues with any aspect of the platform? Reach out to our support team at Support@PartnerStack.com, or use the "Technical Support" option in the top-right menu.