Here is a detailed view of what your Partners' Dashboard entails and how to navigate it effectively

Logging In
First, always ensure they are signed into their Partner Dash. Partners should always be logging in at dash.partnerstack.com/handshake.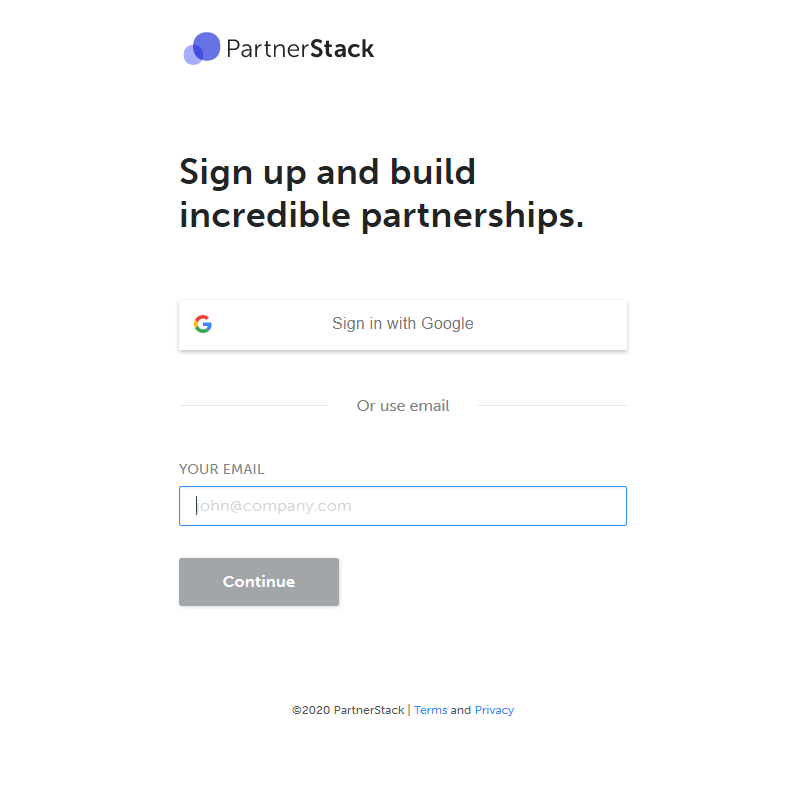 If your partner has forgotten their password, they can request a Password Reset.

This is what your Partner will see once they are signed into their account:

NOTE: For companies using Shopify, there is an additional section called "Discount Codes", which contains the partners assigned discount code, if you are utilizing them. If you have allowed your partners to edit their code, they will be able to do so in that section.
Understanding the Partner Dashboard
Below is a walkthrough of the Partner Dashboard, overviewing the individual sections available to all Partners after joining any program.
1. Partner Settings & Support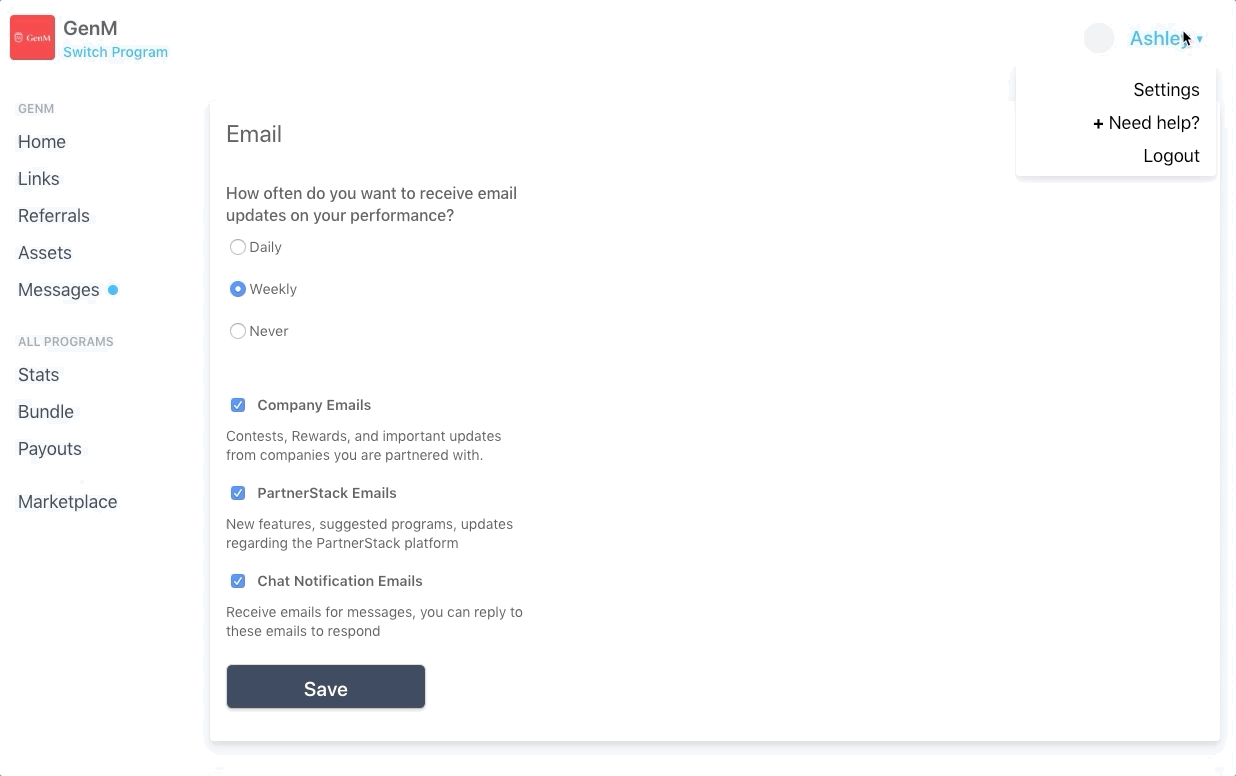 The "Settings" page allows your Partners to:
Control the frequency of emails they receive, and what types of emails they receive
Update their name, email address, phone number, as well as other social content
Update their location and address


They'll also be able to use the "+Need Help" section to contact us for technical support and view FAQs
2. Switch Program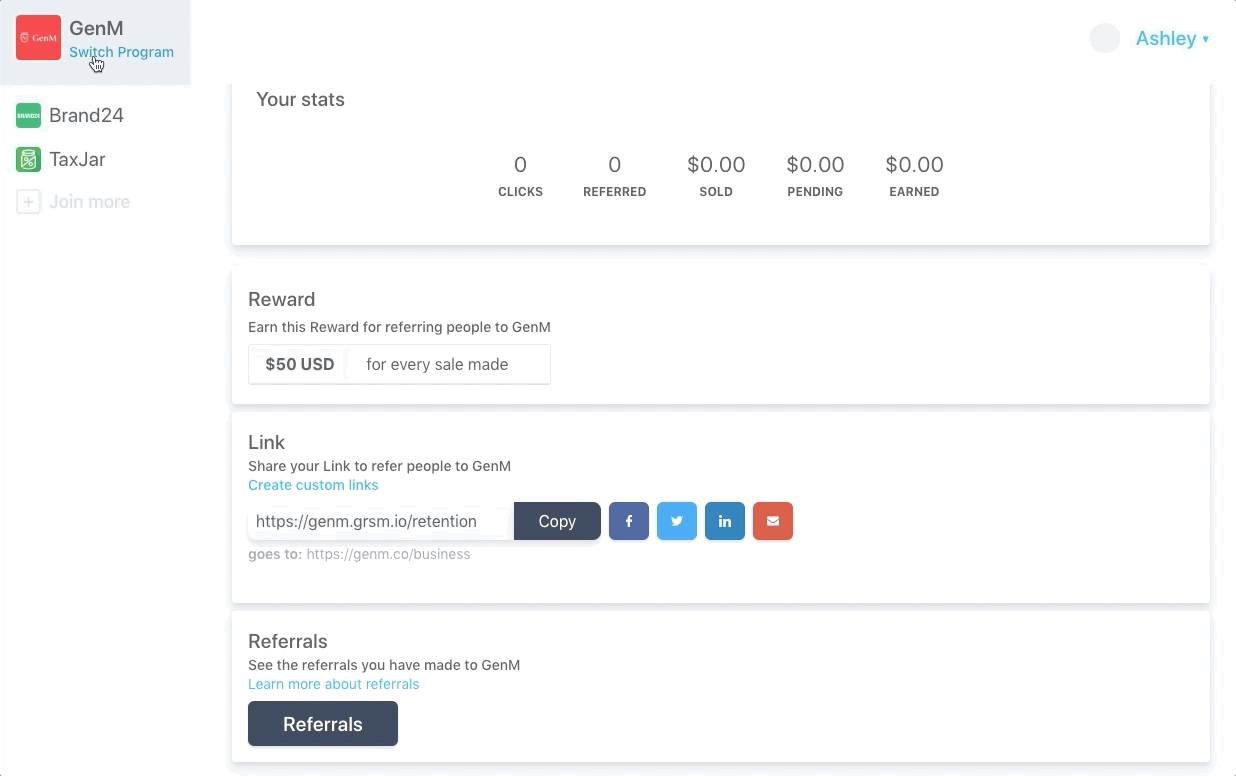 This feature allows your Partners to effortlessly toggle through all of the Partner Programs they've joined, to view various details associated with a specific Company.
3. Home Page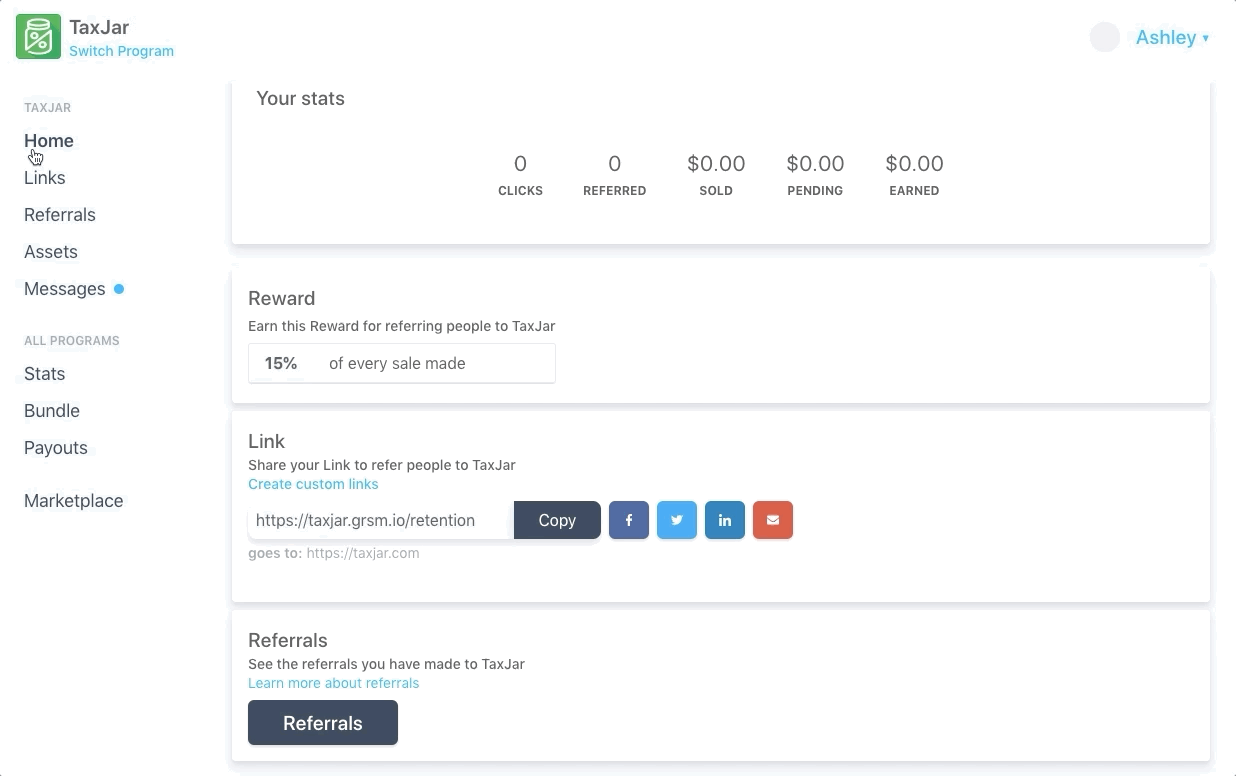 The Home page overviews information including Stats, rewards offered by the Company profile they've selected, their referral links, and recent activity.


4. Links Tab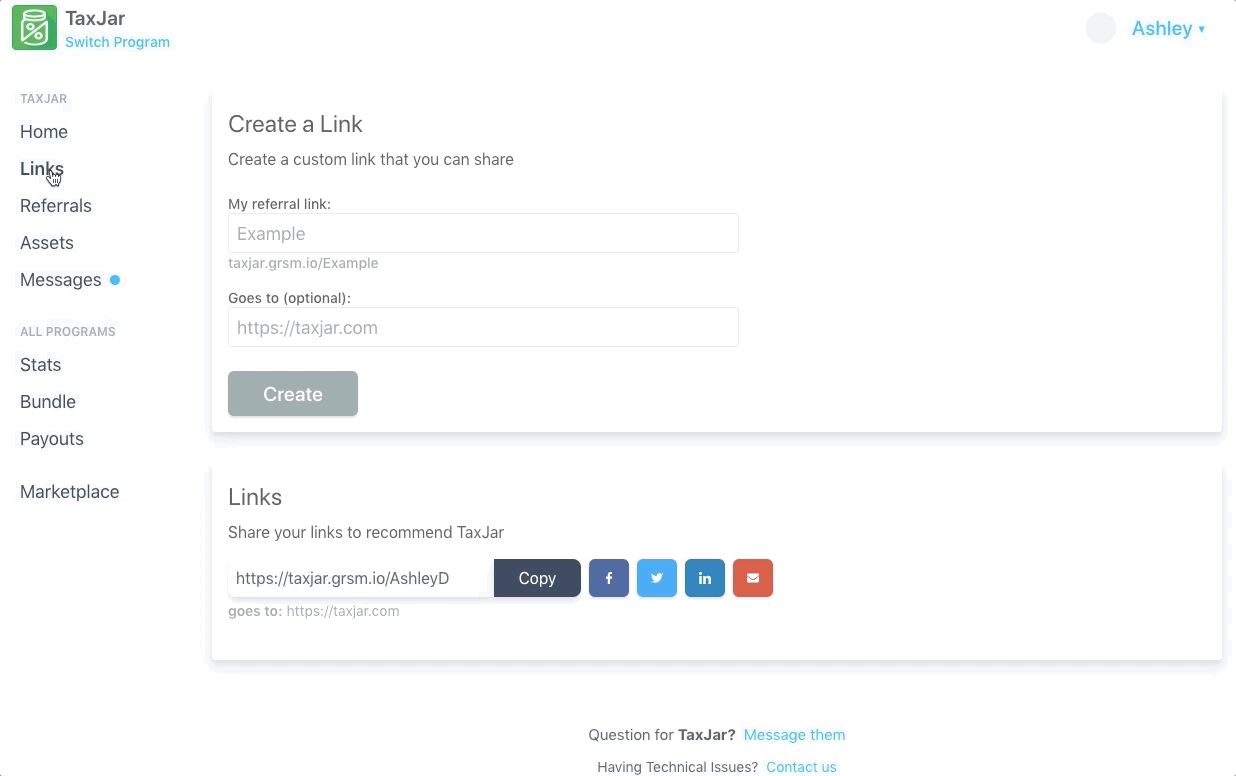 The links tab gives your Partner access to all of their links. This is also where they can create custom links for each company they've joined.
Your Partners can create up to 50 custom links. These links cannot be edited or updated; they simply would have to delete and re-create the link.
Learn how your Partners can create custom links here.
5. Referral Tab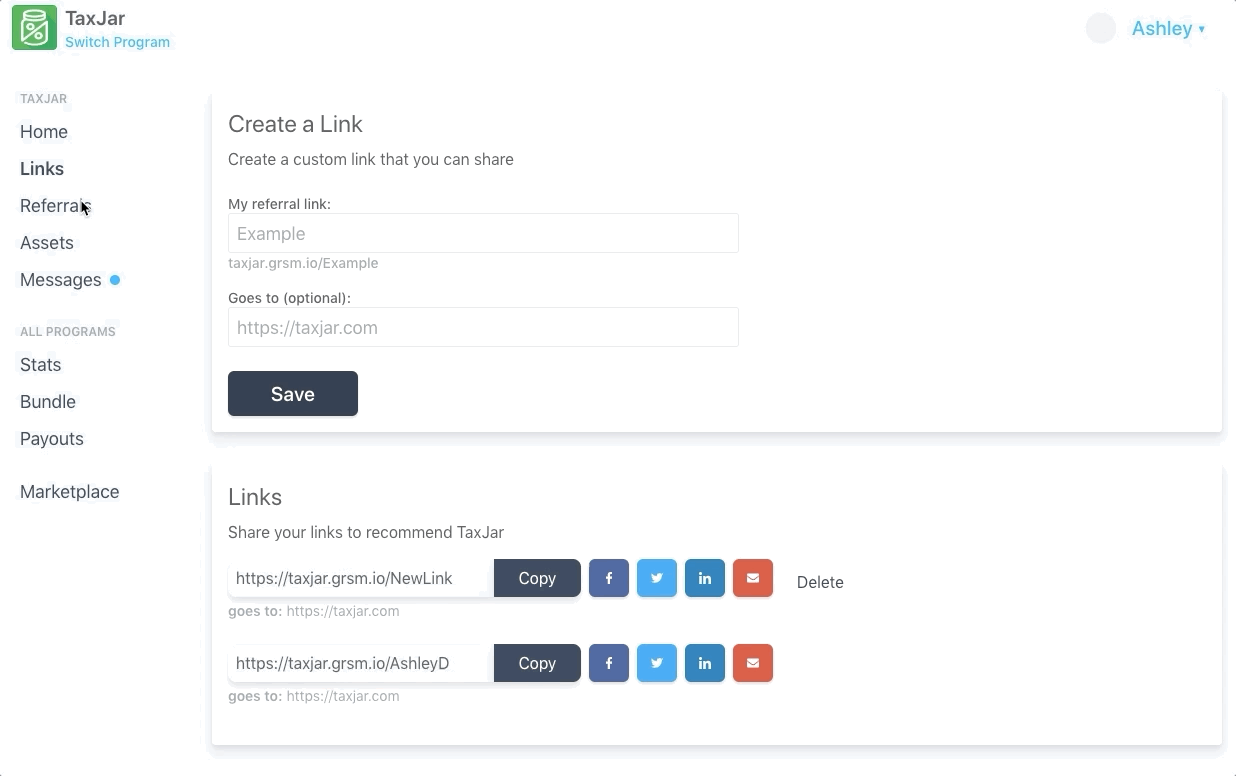 The Referral tab allows your Partner to view all customers who have signed up using their referral link(s). They can view if their referral has signed up, if they've purchased, how much revenue they've generated and when their sign up date was ("created at").
Learn more about your Partners' referrals here.
6. Resources Tab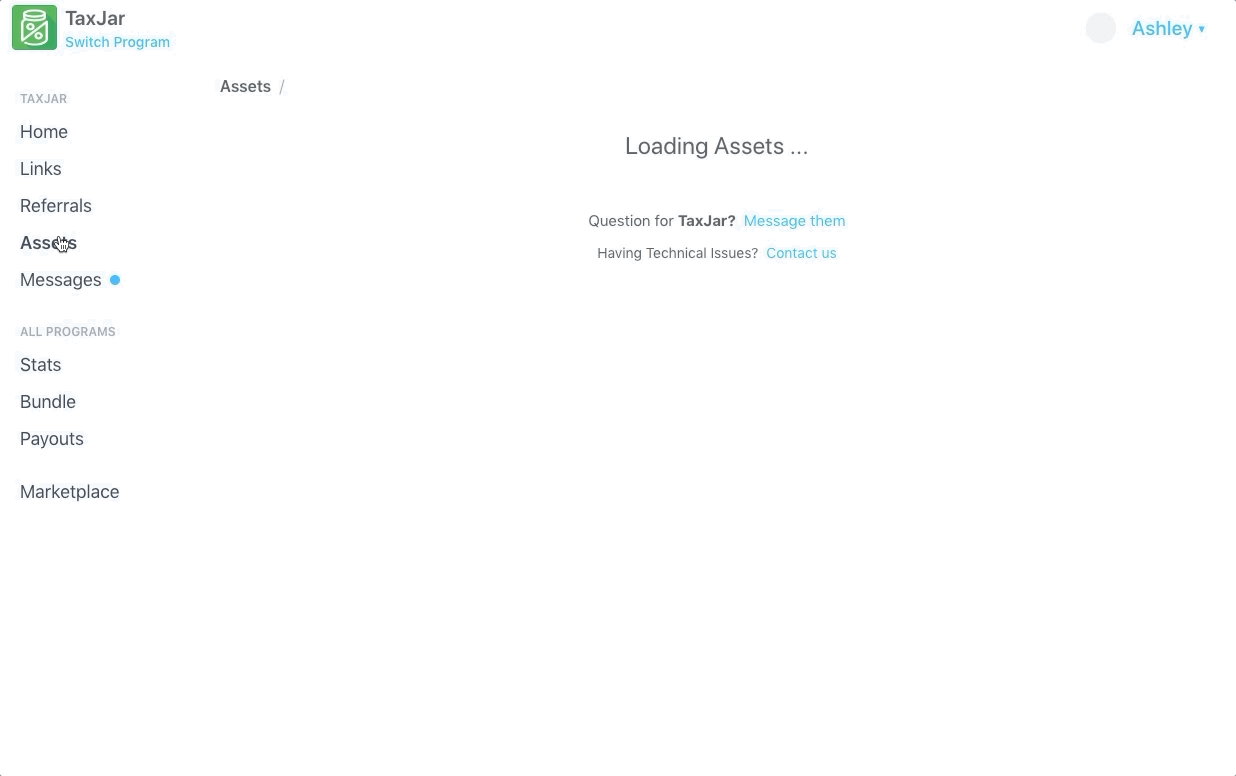 The Resources tab allows your Partners to access any resources you assign to the group they are joined with. It will allow them to download any files or materials you set up for them to better promote the product.
Learn more about Resources here.
7. Messages Tab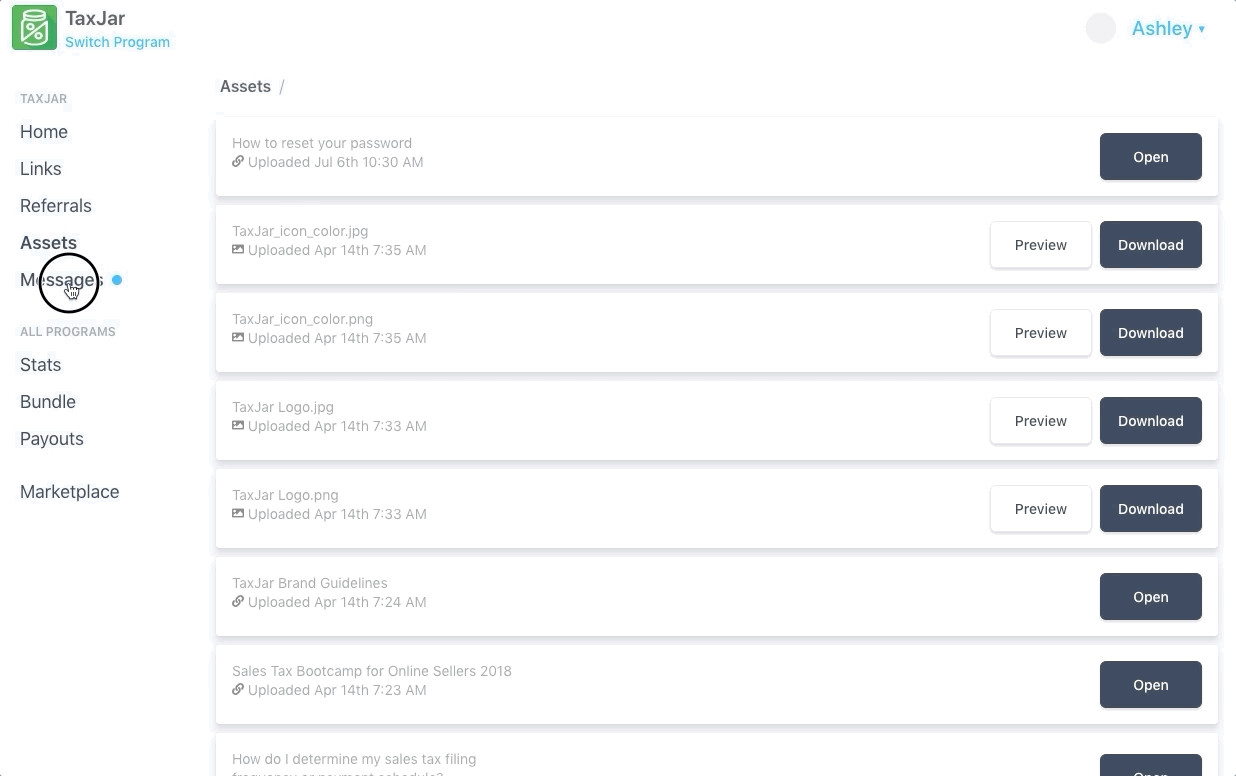 The Messages tab allows you and your Partners to communicate directly through your Dashboards. You can also set up Campaigns to automatically send to your Partners, based on certain triggers you put in place.
8. Stats Tab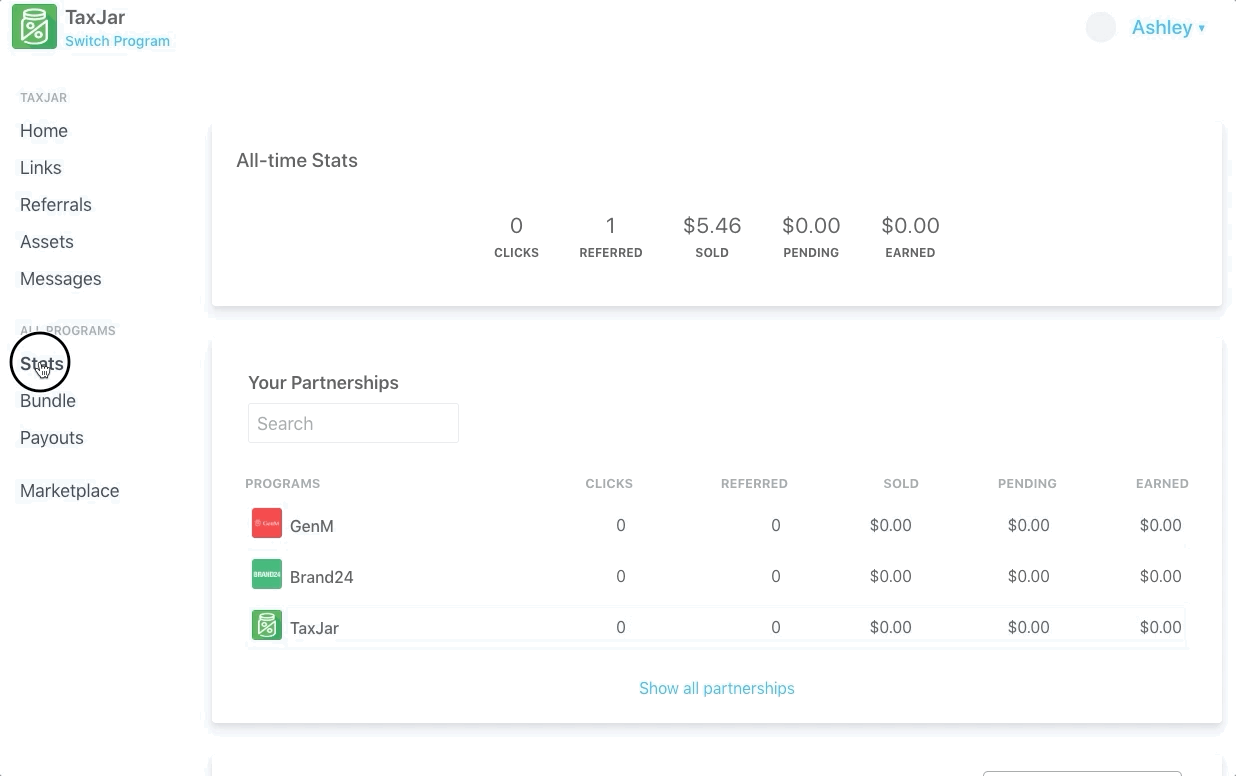 The Stats tab overviews:
"All-time" Partner stats, which are inclusive of all Partner Programs they've joined
Company-specific stats: indicating how many link clicks, how many referrals, dollar amount sold to referrals, pending reward payout amounts, and the total dollar value they've earned
Additionally, at the bottom of the Stats tab, Partners can see their activity feed which is inclusive of all account activity
9. Bundle Tab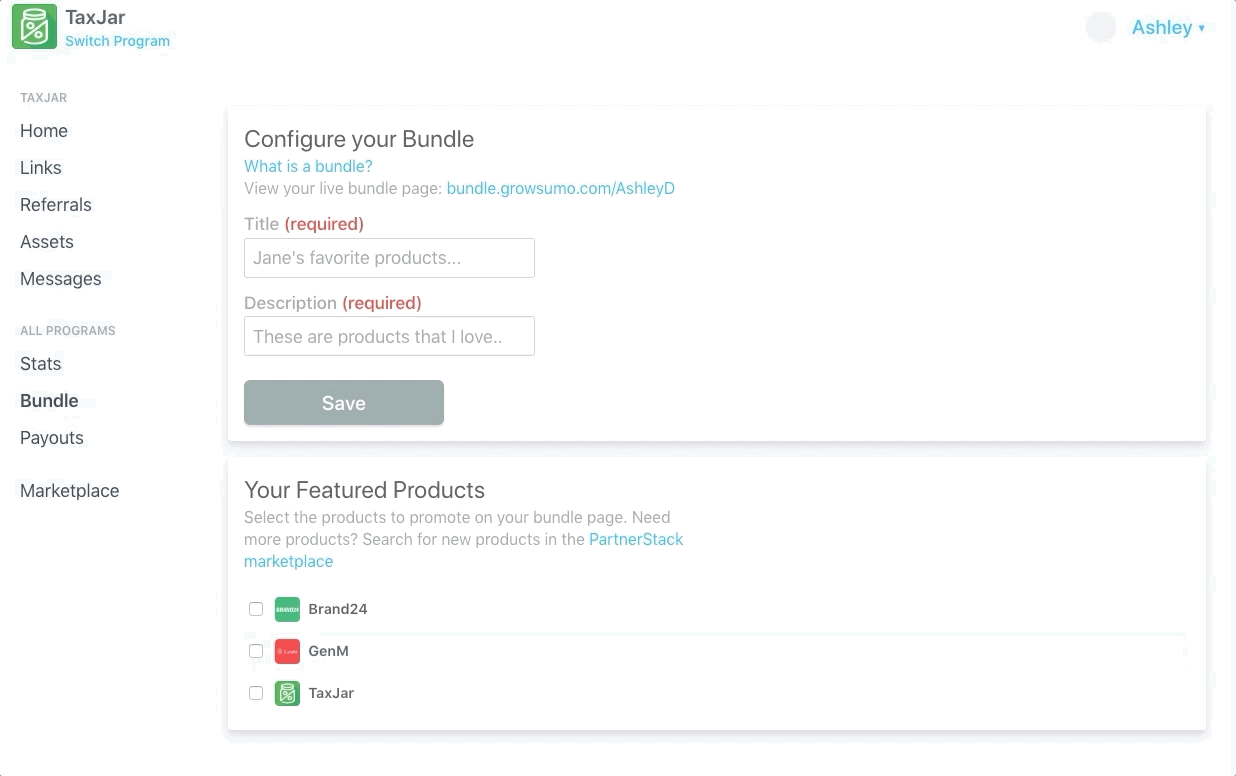 In the Bundles tab, Partners can group together products from different companies and share them together (on the same link).

Learn more about Bundles, here.
10. Payouts Tab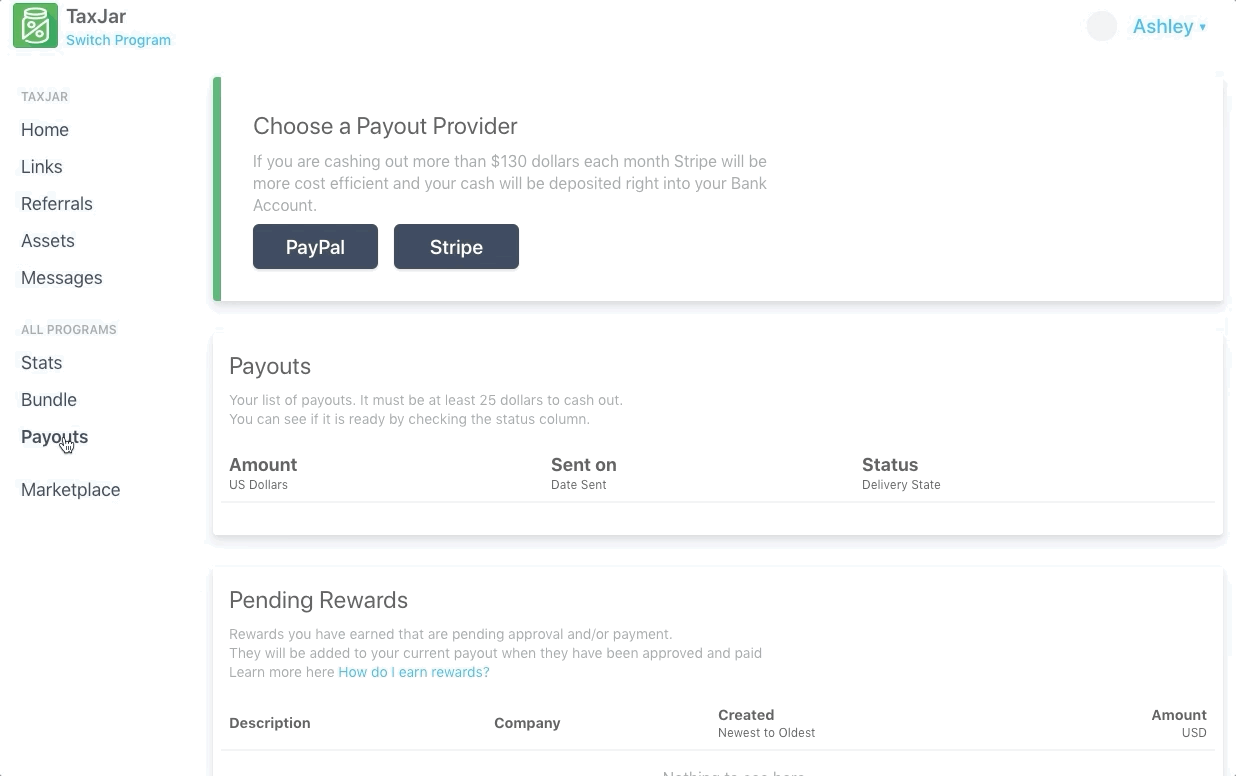 The Rewards & Withdrawals tab shows Partners:
Their chosen payout provider at the top; either PayPal (emailed payouts) or Stripe (direct deposit payouts)
What rewards payouts are currently pending to be cashed out
A history of their previously paid out rewards, the associated amounts and dates paid out
Any declined rewards from Companies, including the decline reason
When a Partner first creates an account, they'll have to choose a Payout provider (either PayPal or Stripe) to accept their payments.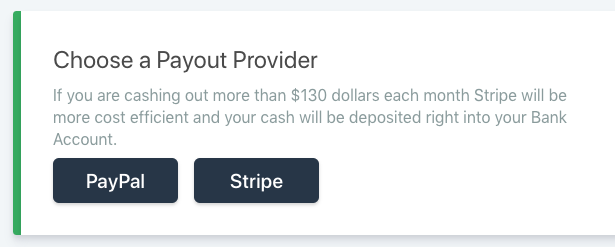 Once they've connected their existing account, or successfully created a new account, they'll be able to cash out rewards as they become available.
Learn more about Partner Payouts here.
11. Marketplace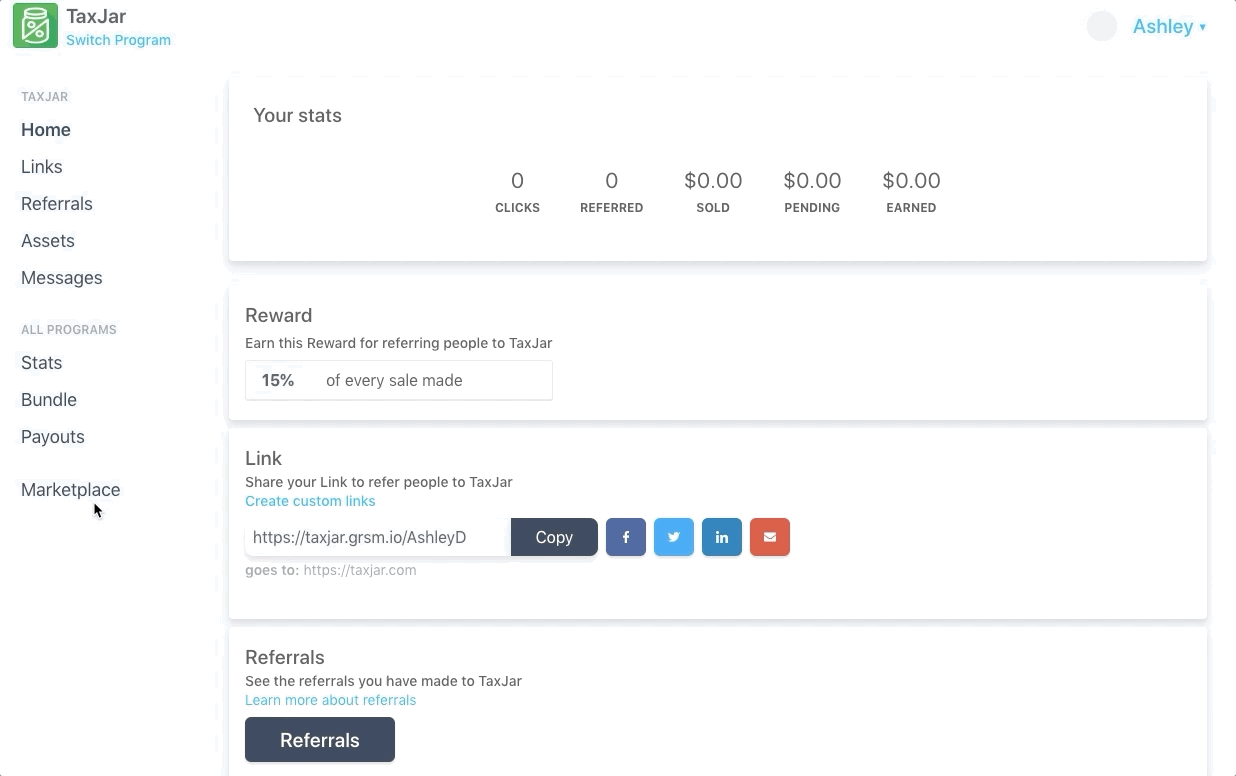 The Marketplace tab allows the Partner to browse all companies offering Partner Programs on PartnerStack. They can see a brief description of the program, the available rewards, and they will be given the option to join the program directly from the Marketplace tab.

At the top of the tab, they will also be able to filter Programs by category.
Learn more about Marketplace here.